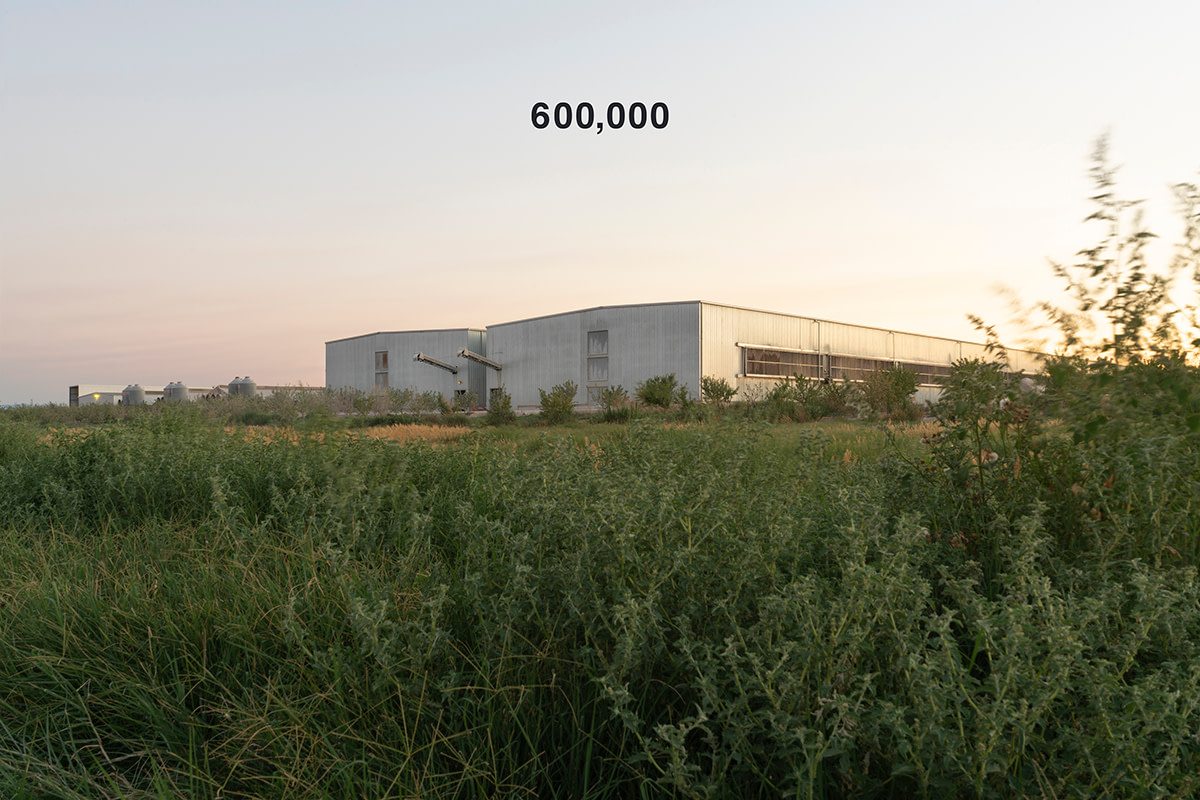 Text and images by Isabella La Rocca González.
Isabella La Rocca González is an artist, educator, and activist working primarily with photography and motion pictures.
For more of Isabella's work visit www.glissi.org.
A photographic series reveals high numbers of animal lives rendered invisible inside nondescript farm buildings.
In February of 2012 in Turlock, CA, 50,000 hens were abandoned in a battery cage facility. They were left to starve in cramped rusted cages. I first photographed the abandoned facility a year later. This inspired my current photographic series, CENSORED LANDSCAPES, which consists of large scale photographic landscapes that include sites of animal agriculture.
From Carleton Watkins to Ansel Adams to Robert Adams, American landscape photography has evolved in conjunction with the conservationist and environmental movement. In the late 20th century, landscape photographers, particularly those associated with the New Topographics, explored the human presence in the landscape. But farmed animals have almost entirely been omitted from the genre, despite their prodigious numbers (70 billion land animals and over a trillion marine animals are slaughtered every year for food). Their exclusion from landscape photography reflects their exclusion from environmental activism even though animal agriculture is a leading cause, if not the leading cause, of climate change, deforestation, ocean acidification, habitat destruction, loss of biodiversity, and mass species extinction.
The industry has a vested interest in suppressing any understanding of the environmental destruction, cruelty, health effects, and worker exploitation of animal agriculture and has attempted to pass "ag-gag" laws that criminalize photographing sites of animal agriculture in more than half of U.S. state legislatures. They have passed in nine states. The Animal Enterprise Terrorism Act is a federal law that criminalizes economic damage to an animal enterprise, including loss of profits. This law is so vague and broad that journalists and photographers who expose the practices of these corporations could be prosecuted as "terrorists."
These laws are in violation of the First Amendment to the Constitution of the United States, which guarantees our right to free speech.
The animals that have been made invisible in the landscape are represented by numbers in bold.
More like this from We Animals Media: