20,000+ royalty-free images and video Clips
Bringing visibility to hidden animals worldwide through compelling photo and videojournalism.
We Animals Media partners with NGOs, journalists, policy-makers, educators and individuals to tell the stories of animals in the human environment — those used for food, fashion, entertainment, work, religion, and experimentation. Our network of photographers and filmmakers are available for assignments worldwide. Learn more about how to work with us here.
Factory Farming • Animal Markets • Saleyards and Auctions • Slaughter • Transport
Aquaculture • Commercial Fishing • Entertainment and Sport • Slaughter and Processing
Poaching • Bear Bile Farming • Sacrifice • Traditional Faith Ceremony
CEREMONY AND RELIGIOUS USE
Activism • Fieldwork • Save Movement
Animal Fairs • Animal Tourism • Aquariums • Bullfighting • Circus • Greyhound Racing • Rodeos • Working Animals • Zoos
Environmental Impacts of Farming • Australia Bushfires • Deepwater Horizon Oil Spill • Hurricane Florence • Covid 19
ENVIRONMENT AND CLIMATE CHANGE
Alligator and Crocodile • Fur Farming • Fox and Raccoon Dog • Hunting • Mink • Taxidermy • Wool and Skins
FASHION AND CONSUMER GOODS
Breeding Farms • Educational Institutions • Vivisection Facilities
Help us give their stories a place in the public conscience.
Your support is essential in helping us investigate and expose the reality for animals trapped in the human world.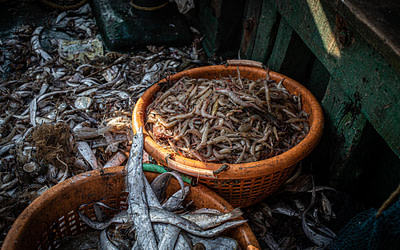 We Animals Media photojournalist S. Chakrabarti recently documented India's fishing and aquaculture industry – with a specific focus on shrimp production, one of the country's main seafood exports.
This month, We Animals Media photojournalists Nikki Ritcher and Alex Akamine were on the ground in the Northern California flood zones documenting the impact on farmed animals.
We sat down with the filmmaker-photographer duo behind our new documentary to find out what inspired them to create this short film and their hopes for it out in the world.
A LOOK AT WHAT WE DO
"This is my world. Join me as I climb transport trucks, and stay quietly and diligently with animals as they go to slaughter. Join me in the dusty roads and at my little hotel room editing desk, as Miguel and I discuss animals, animal photojournalism and, ultimately, kindness."
Moving Animals is a powerful short film about Jo-Anne McArthur's documentation of the long-distance transport of animals, shot and produced by filmmaker Miguel Endara.