IPCC Climate Change Report Is "Code Red" For All Animals
The role of and impact on animals is often missed in discussions of climate change.
U.N. Secretary-General António Guterres said:
"The report must sound a death knell for coal and fossil fuels before they destroy our planet."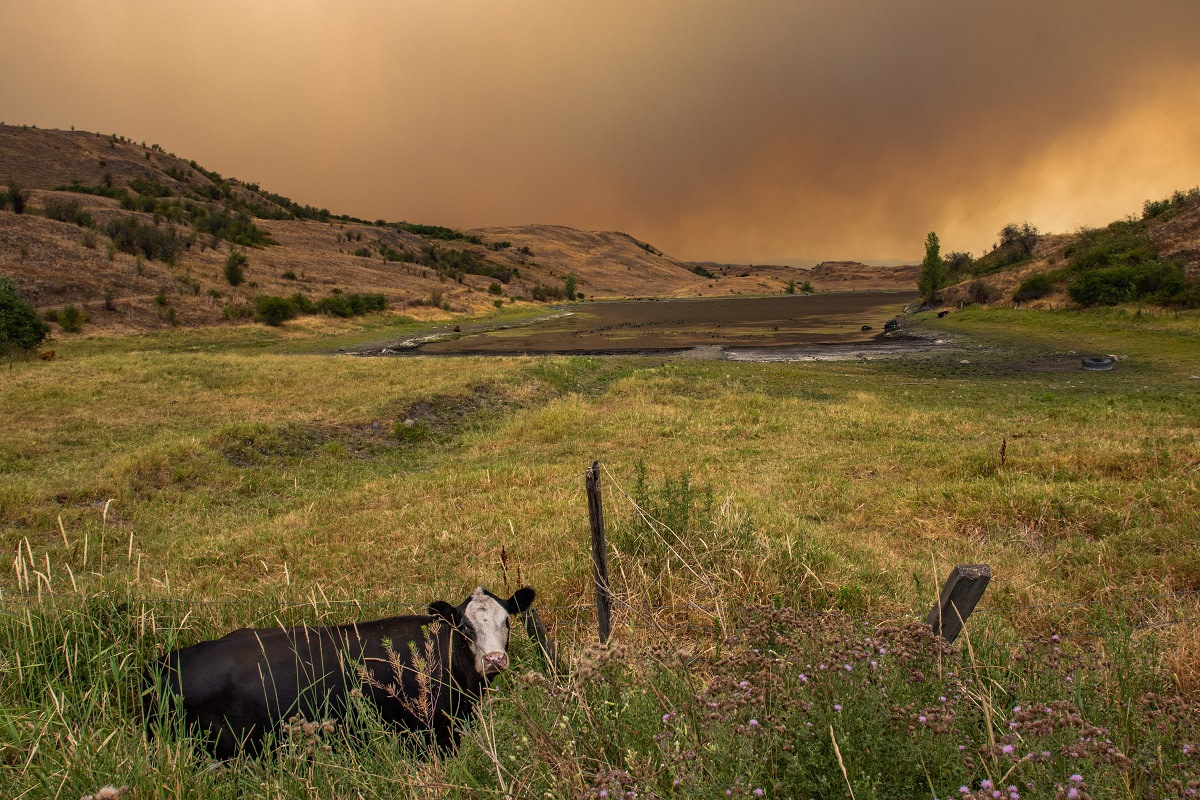 Cows grazing near Goose Lake in Vernon BC. Thick smoke from the White Rock Lake wildfire billows in the background. Canada, 2021. We Animals Media
However it is not only humans experiencing ruinous climate change, nor is it only fossil fuels that are major causes. The impact of climate change on animal lives and the role that our use of animals plays is neglected in media coverage despite the enormity of both.
Visuals from We Animals Media document in painful detail how animals are affected by climate change: BC and California wildfires currently raging, Australian wildlife and livestock burned by wildfires and slaughtered due to drought, and pig farms in North Carolina flooded by Hurricane Florence.
Kelly Guerin, the animal photojournalist at the scene, said:
"For this brief window of time climate change was no longer a line graph or a warning for future generations, it was a massive hurricane decimating neighbourhoods and drowning animals by the millions."
A flooded CAFO surrounded by bodies of drowned chickens following Hurricane Florence. USA, 2018. Kelly Guerin / We Animals Media
The role of animal agriculture in these events is often overlooked, despite the evidence of animal agriculture's significant role in methane, nitrous oxide and carbon dioxide emissions, feed inefficiencies, deforestation, and land and water overuse. The UN report states that livestock "dominates" methane emissions and that slashing methane emissions as rapidly as possible is key to preventing the worst climate outcomes.
Jo-Anne McArthur, Nature Photographer of the Year, speaking of the 2020 Australian wildfires, said:
"Flying in over Australia, I could see a continent smothering in smoke. I spent two weeks working very long hours with a wonderful team to gain access to the burn sites, the rescues, the veterinary missions. An estimated 3 billion animals died from these cataclysmic fires."
More will continue to perish as climate disasters become more frequent and intense.
An Eastern grey kangaroo and her joey who survived the forest fires in Mallacoota. Australia, 2020. Jo-Anne McArthur / We Animals Media
We Animals Media has documented the scope and scale of animal agriculture and climate change that is otherwise difficult to imagine. The UN's report offers precious few years to alter course before larger disasters unfold, and highlighting the impact on and role of animal agriculture is an integral part of the solution.
More like this from We Animals Media: