Assignment: Westcoast Wildfires – British Columbia and California
Wildland Firefighter crews work throughout the night as they backburn areas of the Caldor Fire to prevent further spread. California, USA, 2021. Nikki Ritcher / We Animals Media

Animals feel the impacts of climate change as wildfires ignite western United States and Canada.
We Animals Media has photographed the impacts of wildfires on animals in California and British Columbia in the hottest summer on record. These images show animals in smoky and charred environments, rescuers toiling to save them in emergency conditions, and the dramatic efforts of firefighters and helicopters to control blazes that threaten human and animal life.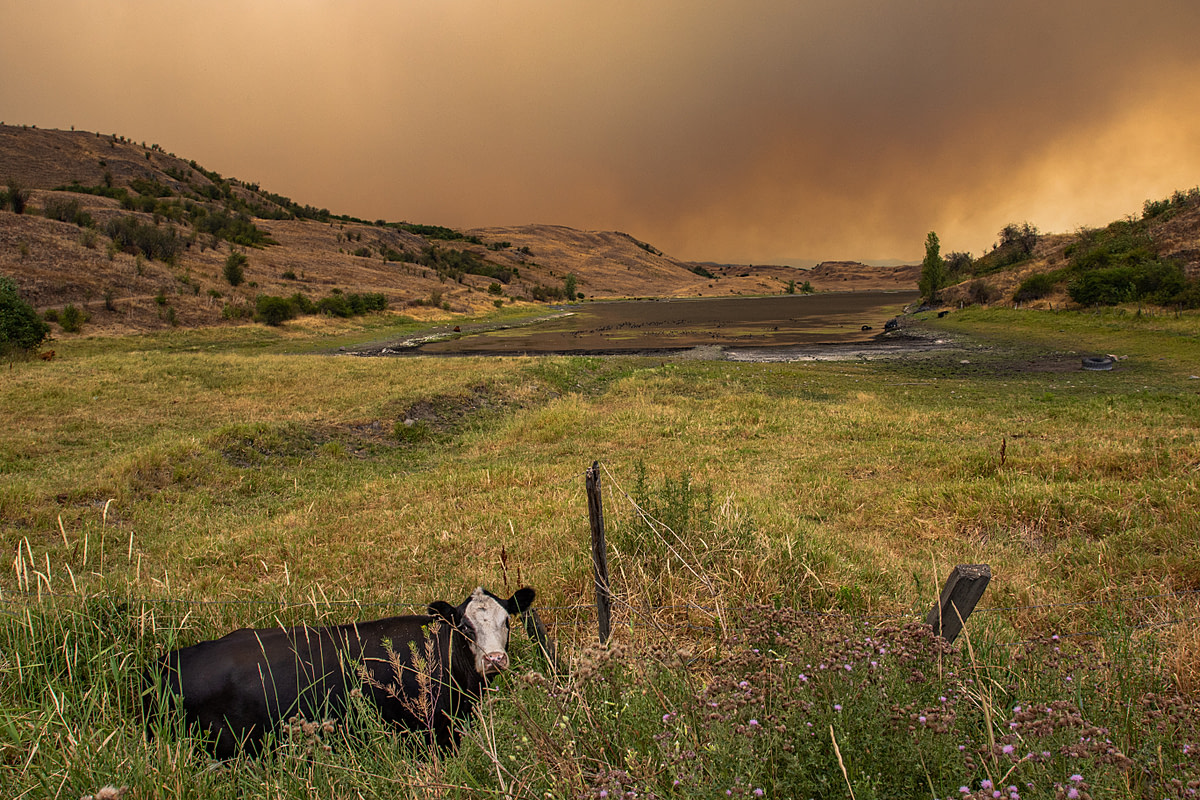 Cows grazing near Goose Lake in Vernon BC. Thick smoke from the White Rock Lake wildfire billows in the background. BC, Canada, 2021. We Animals Media
On the evening of August 14th, 2021, the Caldor fire exploded in size in the foothills of the Sierra Mountain range southwest of Lake Tahoe, California. The fire has grown to over 118,000 acres (477 square kilometers) and is only nine percent contained, forcing thousands of humans and animals alike to be evacuated.
We Animals Media photojournalist Nikki Ritcher was able to photograph a seven-person animal rescue team responding to calls from animal owners desperately trying to get animals out of the active fire zone. These seven volunteers represented four different California counties and two different local volunteer agencies. One animal control volunteer from El Dorado County, where the fire originated, was working his seventh straight day with less than two hours of sleep each night.
"What I realized was the massive effort from multiple agencies, organizations, all volunteering to help rescue animals while putting themselves in harms way within the active fire zone. Most of the people that I worked alongside were working on their days off, or volunteering, sometimes for seven days straight with no more than two hours of sleep a night. I definitely left feeling in awe of their incredible efforts." ― Nikki Ritcher
Often farmed animals are not trailer-trained, nor are there evacuation routes set up on owners' properties to get them safely into stock trailers. These circumstances create an almost impossible feat for the volunteers to get these animals evacuated and volunteers have to spend hours trying to rescue them. Evacuation also adds unnecessary stress to the animals who are already fire-stressed and scared, all while putting the volunteers' lives at risk in an active fire zone. As of August 25th, over 600 farmed animals have been displaced by the Caldor fire and are living in three different shelters.
A lone wild horse outside Osoyoos BC. The Nk'Mip Creek wild fire burns in the background. BC, Canada, 2021. We Animals Media
Simultaneously, in British Columbia as of early August, We Animals Media was able to document some of the 280 active wildfires, fuelled by three unprecedented heatwaves shattering Canadian records. Evacuation orders remain in place for more than 3,500 properties across the province, even while temperatures begin to cool. Already 6,506 square kilometres (1.6 million acres) have burned, almost double the past decade's wildfire seasonal average. The BC Wildfire Service has responded to 1,427 wildfires since April 1 and dozens of volunteers have been evacuating hundreds of farmed animals.
Last month, the Intergovernmental Panel on Climate Change (IPCC) issued a landmark report that, according to UN Secretary-General António Guterres, "is a code red for humanity". This sobering report confirms unequivocally the role of human activity in the climate change that is impacting our planet – heatwaves, floods, droughts, wildfires, hurricanes and other extreme weather events becoming more frequent and intense.
A "code red for humanity" is a code red for all animals.
More like this from We Animals Media: