Announcing Our 2023 Animal Photojournalism Fellows
We are thrilled to announce that we have awarded two Animal Photojournalism Fellowships this year, one to Selene Magnolia and one to Havva Zorlu. Selene is awarded a Senior Fellowship in recognition of her experience and extensive project scope. Over the course of this year each will tell their own stories of animals farmed for food.
We have been in awe of the calibre of work submitted to our 2023 Animal Photojournalism Fellowship. During March we received applications from 62 talented individuals with submissions spanning South America, Asia, North America and Europe.
Read on to learn about our two new Fellows and see some of their animal photojournalism to date.
[Content warning: contains upsetting images]
SELENE MAGNOLIA – SENIOR FELLOW
Selene's project seeks to make industrial farming viscerally relevant to wider audiences by documenting the sweeping health threats of factory farms on people across Europe. This Senior Fellowship is $11,000 (CAD) for a one year project covering multiple countries and shoots.
"This project is developed from the vertical impact and un-sustainability of factory farms, like gas emissions, deforestation, pandemics, climate destruction, but explores their horizontal effects as a focus. Long shadows are projected from intensive animal agriculture buildings and hit nearby communities first, like a lurking presence on people's lives." ― Selene Magnolia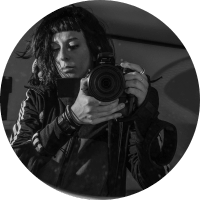 Photo credit: Selene Magnolia
Selene Magnolia is an Italian award-winning documentary photographer and photojournalist. The main areas of focus framing her work are social justice, environmental issues, anthropology and human rights, contemporary and political issues, feminism and food production. Selene's work has been awarded in numerous international photography awards and was also published in our award-winning book, HIDDEN: Animals in the Anthropocene. Learn more about Selene's thought-provoking work in her We Animals Media interview feature.
Follow Selene's work: selenemagnolia.com
Woman who lives close to a factory farm is gardening outdoors wearing a face mask daily because of smell and pollution. Denmark, 2019. Selene Magnolia / Wildlight / Greenpeace
Deck crew pulls nets filled with sardines onboard the purse seine fishing boat Pandelis II. Greece, 2020. Selene Magnolia / We Animals Media
Selene Magnolia / We Animals Media
Havva's project takes place on her home soil in Türkiye (Turkey), an enormous farmed animal player, where she will document widespread animal use across regions in a country deserving of more attention. This Fellowship is $6,500 (CAD) for six months.
"Awareness against animal exploitation in Türkiye has started to increase more rapidly in recent years. Depending on this awareness, animal photojournalism is also developing. As a person living in Türkiye, this fellowship is a unique opportunity to make the lives of animals visible and to become professional in the field of animal photojournalism." ― Havva Zorlu
Photo credit: Özgür Donmaz
Havva Zorlu is a photographer and animal rights activist based in Türkiye. She started taking photographs at a young age with the dream of becoming a photojournalist, and uses photography as a means of expression. Her photography mostly consists of documentary photography and experimental image production techniques. She graduated from Dokuz Eylül University Fine Arts Faculty Photography Department in 2022. Today she takes photographs to contribute to the struggle for animal rights by defending the right to life and freedom for all species.
Follow Havva's work: @havvazorlu 
In 2022, We Animals Media interviewed Havva as part of our contributor interview series to learn more about her stirring visuals and journey towards animal photojournalism; and her recent feature in BirGün, arranged by Deniz Tapkan Cengizone for one of Türkiye's major newspapers, offers Havva an influential platform to discuss these underreported animal issues. 
In the yard of an animal breeder in Turkiye, men pin down a bound goat about to be slaughtered. This goat will be killed while fully conscious as a ritual animal sacrifice, or "Qurban," so the goat's owner may observe the Islamic Eid al-Adha holiday traditions. During this four-day holiday, millions of animals are slaughtered in Turkiye alone. Türkiye, 2022. Havva Zorlu / We Animals Media
Dozens of cows live inside a concrete-floored indoor enclosure on a dairy farm in Turkiye. The cows on this farm spend their entire days indoors, confined in pens without bedding. The concrete floor of this pen is slick with feces and urine. Türkiye, 2022. Havva Zorlu / We Animals Media
Milk flows from the udder of a dairy cow immobilized inside a squeeze box at a slaughterhouse in Izmir, Turkiye. The box makes it easier for workers to attach the chain that will pull her from the box and suspend her upside-down from the ceiling. A worker will then cut her throat. Türkiye, 2022. Havva Zorlu / We Animals Media
Havva Zorlu / We Animals Media
Havva and Selene will work remotely with Jo-Anne McArthur and the We Animals Media team throughout 2023 and will receive this Fellowship funding as a monthly stipend and to cover project costs.
We'd like to extend our thanks to all who applied to this year's Fellowship – we were thrilled to read all of the wonderful project proposals and to learn about more and more photographers doing this important work on behalf of animals. From the 62 applicants we received this year, we were also able to offer numerous assignments around the globe covering industries from fishing and dairy farming to animals in gastronomy and cell-based meat.
This is an inspiring time for animal photojournalism, and we look forward to sharing these new stories with you in the coming months. Subscribe to our newsletter or follow us on social media to stay updated.
More like this from We Animals Media: