Meet the Team: Victoria de Martigny – Director of Global Fieldwork and Visual Content
Victoria de Martigny – Director of Global Fieldwork and Visual Content. Photo credit: Jo-Anne McArthur
Meet some of the wonderful individuals behind We Animals Media (WAM) in our Meet the Team Q&A series. Each month throughout 2023 we'll be publishing a new behind-the-scenes feature for you to learn about the folks at WAM.
This month we spoke with our Director of Global Fieldwork and Visual Content, Victoria de Martigny.
Hometown and where I live now
I grew up mostly in Montreal, QC with a few years in Oakville, ON. As an adult my job has allowed me to live on a cruise ship based out of Brazil, in Darmstadt, (Germany), Worksop (UK), and Winnipeg (Manitoba) for one very cold winter. I currently live in Montreal, which will always be "home".
Interesting/fun fact!
I ran as a candidate for the Animal Protection Party of Canada in the 2019 Federal Election in my riding of Lac St. Louis, Quebec. I came nowhere near winning, but I got 379 votes from people who wanted a better world for animals.
Favourite movie/book (or both)
Book: My favourite book is Beautiful Joe by Margaret "Marshall" Saunders. The book was given to me by my grandfather when I was quite young as we both shared a love of animals. The story is told from the perspective of a dog named Joe who endures a life of terrible suffering and it awoke in my young heart a deep compassion for animals – which has stayed with me to this day.
Movie: My favourite movie is The Little Mermaid. Disney is brilliant at using anthropomorphism to help us connect with animals… And Sebastian the singing crab always makes me smile.
A little about my rescue animal(s)
My husband and I have been taking in stray cats for 20+ years and they run the house! Cats in the neighbourhood seem to know that our house is a safe haven and we always seem to have someone new needing help and joining our little colony. Evan and Cali make frequent cameo appearances at WAM meetings as they like to sleep on my desk while I work.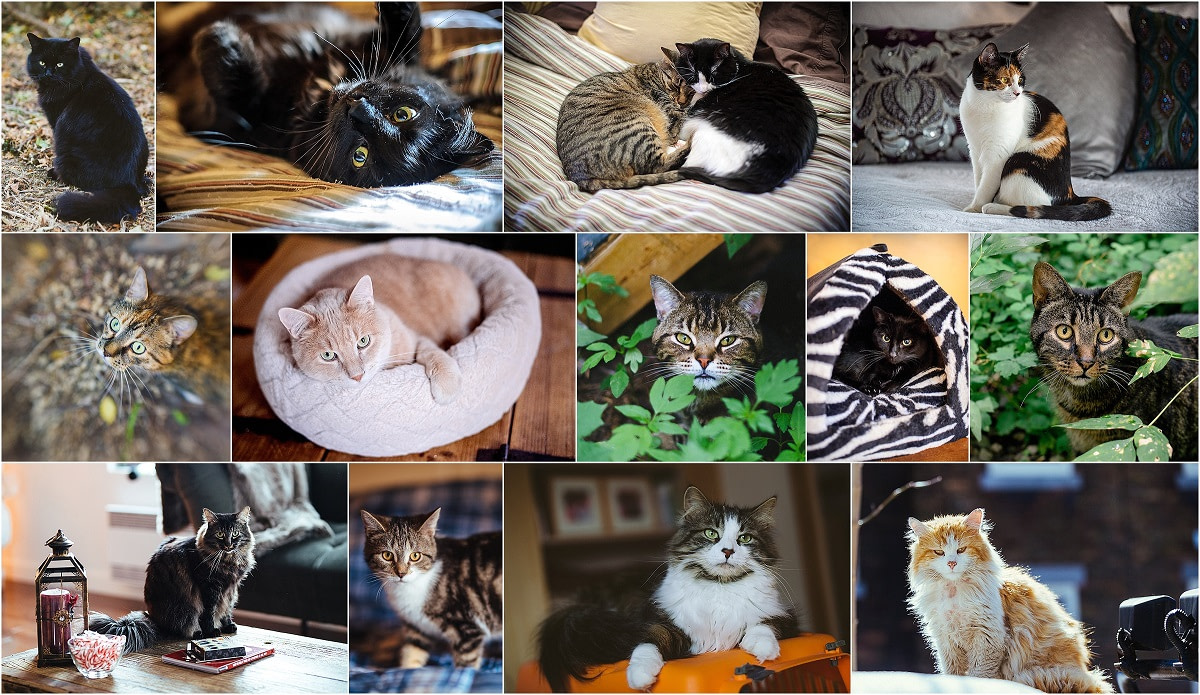 Some of the rescued and feral cats taking up residence in Vic's home (Top row, left to right: Poopsy, Trouble, Doodles & Boo Boo Bear, Cali / Middle row, left to right: Mamasita, Potato, Roswell, Sissypants, Bash / Bottom row, left to right: Evan, Puddin', Fluffy, Cupid). Photo credit: Victoria de Martigny
Something quirky about me that people might not know
I have a huge freezer stocked full of all my favourite vegan foods, you know, in case I have to shelter in place when the zombie apocalypse comes.
What's my background
My career has changed trajectory several times as I have continued to seek more meaningful work. I've held director level positions in operations, logistics, marketing, communications, and special projects for Fortune 500 companies and small non-profits alike. I used that experience to dabble in consulting, and then turned my lifelong passion for photography into my own boutique photography studio, specializing in photographing women. And then the stars aligned and a project management job opened up at WAM and here I am. Home at last!
What I do at We Animals Media (WAM)
I initially joined WAM to help build the new stock platform, and then once it launched in 2021, I was asked to stay on and manage it. As we started growing our network of animal photojournalists, I began working closely with them and coordinating our licensing, investigations and assignments. I'm also a photographer, so I sometimes shoot for WAM. In 2022 I covered the bird flu outbreak in Quebec, photographed Hannah Murray for the Unbound Project, and spent several days in Brooklyn, New York documenting Kaporos.
One WAM image that has really stuck with me and why
I see every image and video clip that goes up on the stock platform, and they all stay with me. One that comes to mind though is a photo by Lukas Vincour of a despondent calf with blood running down their face after being dehorned. This young animal has their head sticking through the bars of their tiny pen, a pink ear tag is evident and blue dye is on the head. It is such a sad image and to me it truly epitomizes how humans have commodified animals to such a degree that they are treated like cogs on an assembly line rather than the sentient individuals that they are. This calf should be nursing or frolicking in a pasture, instead they are isolated and their suffering is ignored.
A calf with blood running down their face stands inside an individual enclosure on a farm in Czechia. This young animal has recently undergone a painful dehorning procedure. Czechia, 2021. Lukas Vincour / Zvířata Nejíme / We Animals Media
Working at WAM involves dealing with difficult subject matter on a regular basis. How I cope and my advice for others working in similar fields
A good cry can be so cathartic. Sometimes I just need to let myself sink into those painful emotions and acknowledge the sadness and unfairness. It also really helps having a circle of friends who share my values who I can talk to about the things I see each day, and who I know "get it". I found my people doing street activism and am so thankful for my vegan family.
Visiting animals in sanctuaries is also incredibly restorative. Seeing animals living their best lives makes my heart sing. One of my most joyous moments was when Delilah, a goose from a local farm animal sanctuary nudged me and asked to be picked up – after months of chasing me around and biting me. That day that she decided to let me into her circle of trust was indescribable – even as her poopy wet feet dripped all over my clothes. I didn't care, I was getting a Delilah hug. Those are the moments that carry me through.
Connect with me if…
You have a story idea you want to pitch, you have content you'd like to share with us, or if you know where I can get my hands on some vegan KitKats!
More like this from We Animals Media: