From Source to Sale: Shrimp Farming and Fishing in India
A basket full of shrimps and prawns on the floor of a trawler. India, 2022. S. Chakrabarti / We Animals Media
Our appetite places an enormous burden on aquatic animals.
Fish and other sea life are killed in much higher numbers than land animals but their stories remain underreported. Most aquatic species are measured by the tonne, not by number of bodies, so exact figures are impossible to know and opportunities to connect with them as individuals capable of pain and suffering are sparse.
We Animals Media photojournalist S. Chakrabarti recently documented India's fishing and aquaculture industry – with a specific focus on shrimp production, one of the country's main seafood exports.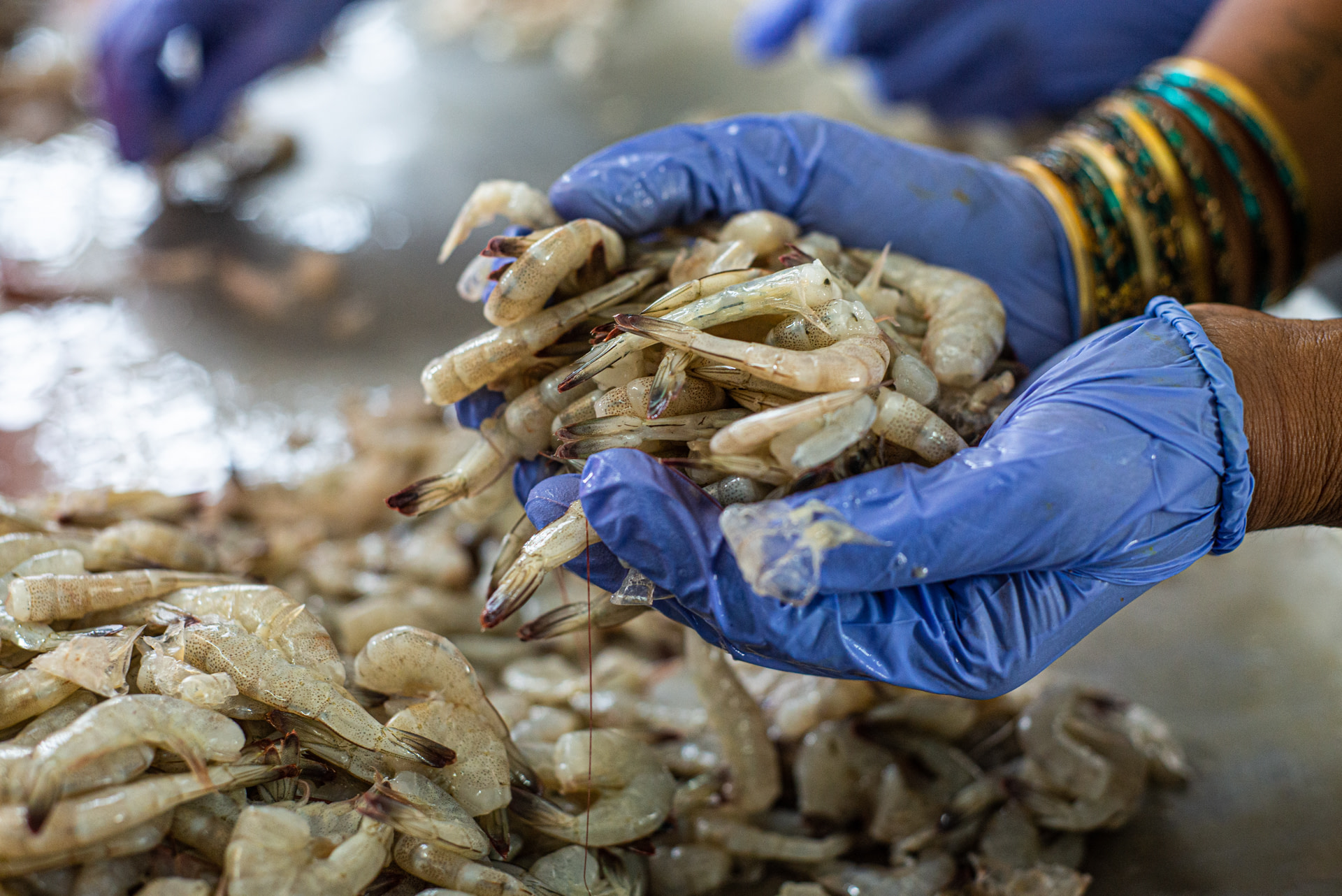 A female worker holds a handful of prawns before she manually shells them at a processing plant. Matlapalem, Andhra Pradesh, India, 2022. S. Chakrabarti / We Animals Media
"The one thing that struck me was actually seeing the quantity of animals being fished and farmed. India is the world's second largest producer of whiteleg shrimp, producing a whopping 2.2 million metric tons. Reading such numbers just gave me an idea that it's a lot. But to actually see just a small fraction of that number in reality as I saw boxes and boxes of shrimp and prawns in the processing plants, the farms, the fishing markets, the bycatch – that visual understanding was overwhelming." ― S. Chakrabarti, animal photojournalist
India's Shrimp Hatcheries and Aquaculture
According to the
Shrimp Welfare Project
, an estimated
400 billion shrimp are farmed each year globally – that's five times the total number of farmed land animals.
Many areas in India have a thriving industry based on shellfish hatcheries. These hatcheries populate aquafarms with nauplii (newly hatched larvae) or postlarvae (young shrimp with adult characteristics), which are then reared to maturity. The nauplii are kept in large cement tanks under artificial light, where water is treated and purified. Juvenile shrimps are measured in scoops: a single scoop contains as many as 2,000 individuals. Once the crustaceans reach maturity, they are caught using nets then transported to aquafarms.
A glass beaker containing hundreds of shrimp nauplii (newly hatched larvae). Annavaram, Andhra Pradesh, India, 2022. S. Chakrabarti / We Animals Media
Matlapallem, in Kakinada – a coastal city in Andhra Pradesh – has many aquafarms, processing units and factories to support this growing industry. These farms are built on land that was formerly agricultural land and mangroves. Over the past few decades, many farmers have converted their farmlands into aquafarms as the commercial returns are stronger. Most of these farms rear a mix of shrimp, prawns and fish.
Aquafarm operators use medications to control diseases and hormones to promote growth, which in recent years has led to concern over the use of antibiotics and banned medications; the government has in turn raided these farms and initiated awareness drives to limit their use.
An aquafarm worker stands by a crate of harvested shrimps and prawns. The worker prepares a net before using it again to harvest more animals from the pond. Matlapalem, Andhra Pradesh, India, 2022. S. Chakrabarti / We Animals Media
Despite
shrimp sentience being recognized by scientists and policymakers
, these animals continue to suffer on farms around the world.
"Eyestalk ablation", which involves the removal of a female shrimp's eyestalk to increase their egg production and force them to spawn, is still a common practice on many commercial farms, even though numerous studies have proven it to be highly stressful for the animals and recommend against it.
Like other forms of aquaculture, workers on these farms slaughter the shrimp by placing them in dry crates filled with ice. Scientific studies have concluded that ice causes thermal shock, keeping marine animals conscious and sensitive to pain for prolonged periods.
On an Indian aquafarm, live, freshly caught shrimp and prawns jump and struggle inside a crate as a worker covers them with layers of ice. The ice induces cold shock and slowly kills the animals if they have not already died from prolonged exposure to the air without water. The farm performs both these steps to ensure the animals die but remain fresh during transport to the processors and markets in the area. Matlapallem, Andhra Pradesh, India, 2022. S. Chakrabarti / We Animals Media
Commercial Fishing and Fish Markets in India
Kakinada is a port city with a major fishing harbour, and the state is the largest fish producing state in India,
producing up to 34.5 lakh tonnes
(3.45 million tonnes) in 2017. Fishing is a major source of income for those living in the region, with shrimp, prawns and fish comprising Kakinada's main exports. Total state shrimp export was valued at $2.7 billion in 2021 and accounts for
35% of India's total shrimp export value
, selling to the EU, US, China, Malaysia, Indonesia, Singapore and farther afield.
Slaughtered shrimps and prawns on a conveyor belt in a mechanized shrimp processing plant. The conveyor belt carries the crustaceans to a machinery that cleans, grades and quality-checks them before they are sent for manual deveining and packaging. Matlapalem, Andhra Pradesh, India, 2022. S. Chakrabarti / We Animals Media
Female fishmongers peel and clean shrimps. Kothapalli, Andhra Pradesh, India, 2022. S. Chakrabarti / We Animals Media
Shrimp trawling is responsible for large volumes of bycatch, which puts great strain on marine ecosystems. According to reports,
shrimp trawling accounts for more bycatch volume than any other fishery type
and remains a big problem, particularly in warmwaters, accounting for approximately 75 percent of all catch. Bycatch can include turtles, sharks, rays, dolphins and whales and other species that can't be easily sold. These animals typically die during capture, suffocate to death on boats or die shortly after being thrown back into water.
A worker fills a crate with shelled and deveined shrimps. The crate will be topped up with ice for storage and transport. Kothapalli, Andhra Pradesh, India, 2022. S. Chakrabarti / We Animals Media
Fishers sift through this bycatch after selling intended catches and typically sell it at local markets or personally consume it. Whatever bycatch remains unused or not fit for consumption is dried and sold in bulk to industries making fish oil, fishmeal and fertilizers. Expensive fish are auctioned, typically to restaurant owners and international exporters.
Piles of live crustaceans and bycatch lie on a trawler. Kakinada Harbour, Kakinada, Andhra Pradesh, India, 2022. S. Chakrabarti / We Animals Media
The women in fishing communities usually work as fishmongers in the village areas and at local markets. Crustaceans that are caught from the sea either directly or salvaged from bycatch are cleaned, deveined and packed by these women to be sold in Kakinada's local markets and elsewhere within the state.
Rows of female workers stand at workstations, manually cleaning, peeling and deveining shrimps and prawns at a processing plant. The women work six-hour shifts earning $3.63 USD per shift. Matlapalem, Andhra Pradesh, India, 2022. S. Chakrabarti / We Animals Media
"With a huge coastline, India has a large number of artisanal and indigenous fishing communities, who have been fishing for generations. But what used to be sustainable because it was done in small numbers for local consumption and keeping in mind natural cycles, has now become a chain of demand and supply. The livelihoods of these communities are completely dependent on fishing. And even though India ranks amongst the top countries in fish and seafood production, the fishers and fishmongers remain lowest in the rung in this industry which generates billions." ― S. Chakrabarti
These visuals provide a glimpse inside India's highly-profitable seafood industry. From source to sale, shrimp production is a rapidly growing trade. But with that comes conflicting parallels for local communities, in addition to the inevitable environmental degradation and immense animal suffering involved in an industry so vast in scale.
Images and video clips by S. Chakrabarti.
Donate today and help us continue to produce compelling global investigations into the hidden lives of aquatic animals.
More like this from We Animals Media: