Meet the Filmmakers behind "Transfarming Switzerland"
An interview with Thomas Machowicz and Sabina Diethelm
We sat down with Thomas and Sabina, the filmmaker-photographer duo behind our new short film about Sarah Heiligtag's "Transfarmation" of Swiss farms. Read on to find out what inspired them to create this documentary, their hopes for it out in the world, and their journeys towards animal photojournalism.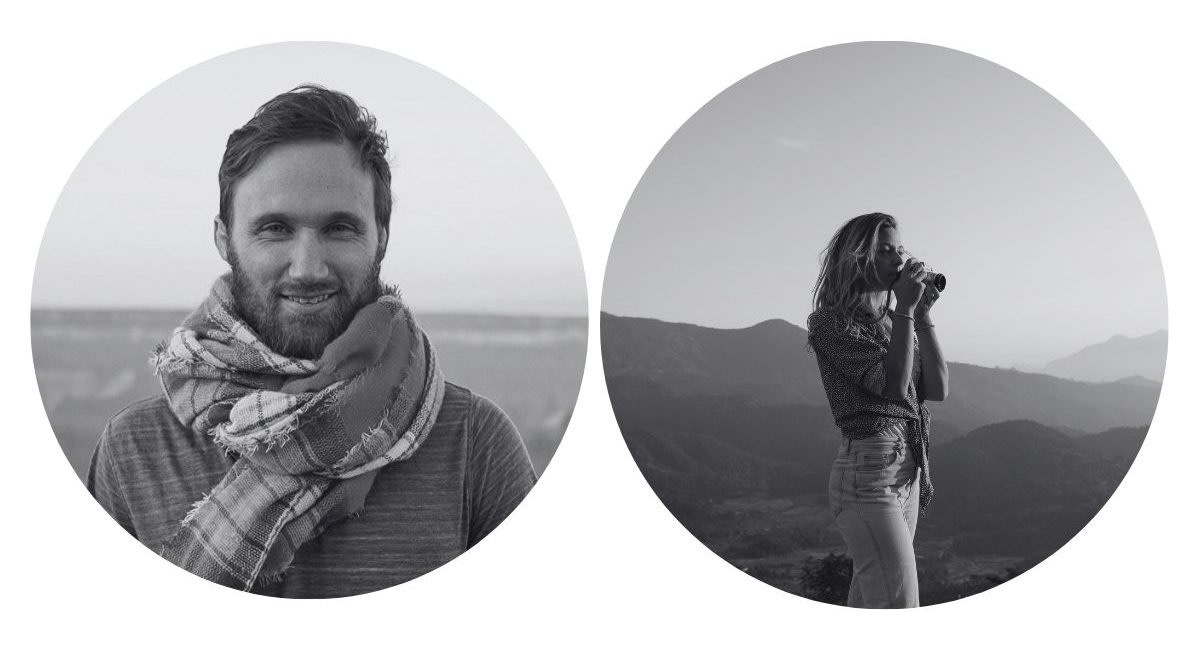 We Animals Media (WAM): What inspired you to tell Sarah's "Transfarmation" story?
Thomas Machowicz (TM): I've been working on a long-term photo and film documentary called Sanctuary, which looks at the compassion people have for animals as they rescue them in all the major challenges facing the world today. I wanted to find someone working within animal agriculture while I was visiting Sabina in Switzerland and a quick search brought up Sarah's "Transfarmation" project.
Sabina Diethelm (SD): Once we learned more about Sarah, we realised that the work she does goes very far beyond her own sanctuary and that she really works on changing the farming industry fundamentally and on a very large scale, and we felt this was a story worth telling.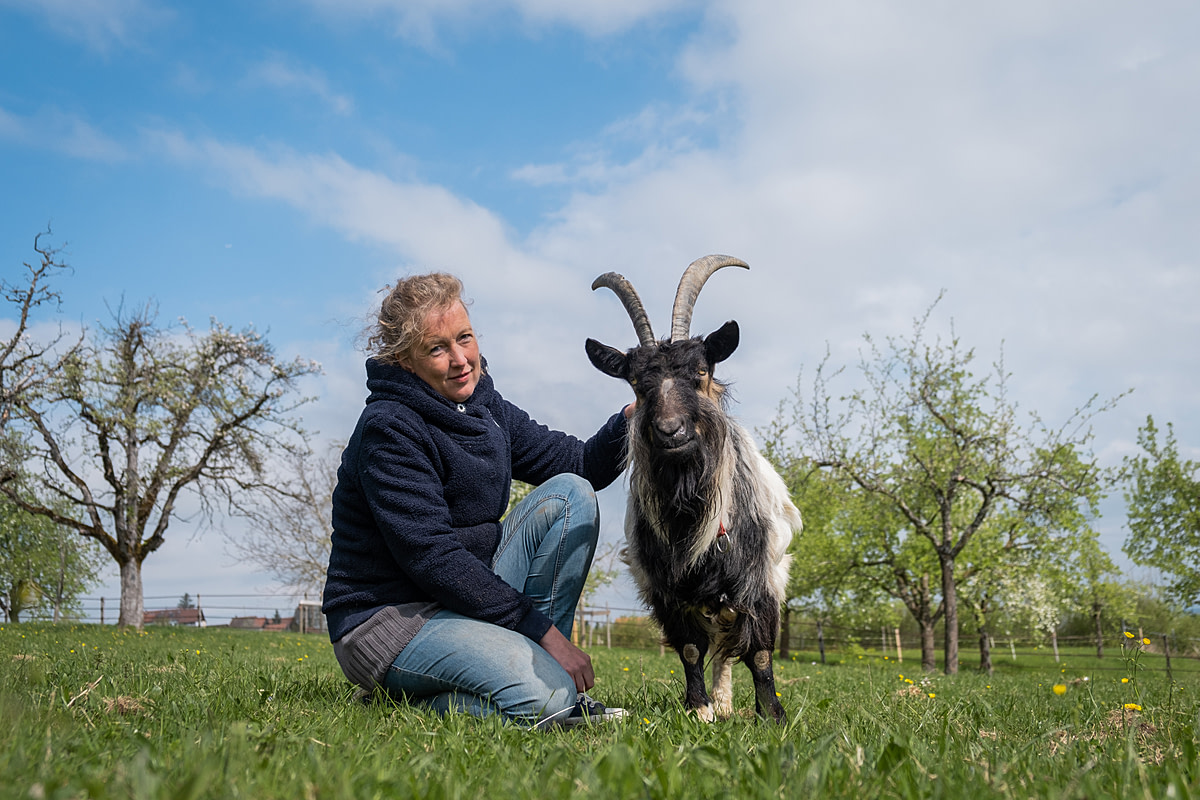 Sarah Heiligtag sits in the pasture between blossoming apple trees with rescued goat, Julia, at Lebenshof Hof Narr in Hinteregg, Switzerland. Eighteen-year-old Julia is one of eight goats and also one of the oldest rescued animals at Hof Narr, which is Sarah's animal sanctuary. Hof Narr, Hinteregg, Zurich, Switzerland, 2022. Sabina Diethelm / We Animals Media
WAM: What was documenting this story like? What were some of the highlights for you? What were some of the challenges you faced?
SD: It was an incredibly inspiring experience that deeply impressed us on a personal level, too. Having grown up in Switzerland, I was so used to seeing those ads with happy farm animals on beautiful Swiss mountain pastures, and even though I knew this was not reality, it was really eye-opening to witness just how far from the truth these depictions are, even on organic farms. It was truly impactful to hear the farmers themselves express how wrong they felt the way common farms work is. For me, it was challenging to witness the conditions on some of the farms that had not "transfarmed" yet and to see how both animals and people were suffering there. On the other hand, visiting the transfarmed places, seeing how they had become real happy places and feeling how relieved the farmers were about the change was very moving. And of course, watching Sarah doing this work was so inspiring and impressed us every day anew.
TM: I feel similarly to Sabina. Watching Sarah work has been an inspiration that has changed my life beyond this film.
The nine dairy cows living at Corinne Hadorn's "ausmelk" farm in Bern, Switzerland are tethered and stand in the same place with their tails tied up for most of the year. There is barely enough room for the larger animals to lie down, and they get sores on their legs from lying on the concrete floor. Corinne wants to transform the farm into a sanctuary and renovate and expand the barn, but does not know how to finance this project yet. Oberbutzberg 4, Bleienbach, Bern, Switzerland, 2022. Sabina Diethelm / We Animals Media
Bellinda, a three-year-old dairy cow, stands in the pasture at an "ausmelk" farm in Bern, Switzerland. She is noticeably thin and in poor health. Bellinda was brought here in order to be "milked out" for another year before being slaughtered. The farm owner, Corinne Hadorn, wants to stop exploiting the animals and transform the farm into a sanctuary. It is not clear whether Bellinda will live to see the change. Oberbutzberg 4, Bleienbach, Bern, Switzerland, 2022. Sabina Diethelm / We Animals Media
WAM: Could you tell us a little bit about your filmmaking process when creating this documentary?
TM: The most important part for me is to just start filming. I feel most comfortable approaching a story by being immersed in it and turning the camera on when it's time. I love being in the moment, but of course we did talk with Sarah ahead of time to gain a better understanding of her process so we could do the story justice. We also worked closely with the WAM team and leaned heavily on their experience to make the film impactful and special.
SD: I guess the cliché is true that Swiss people can be quite restrained and shy about opening up, and this was particularly true for the farmers who already felt that their way of running their farm did not align with their own morals and values, but hadn't proceeded to change anything yet… so we had to develop a sense of what we could do where, and spend time talking to and connecting with the farmers within the little time we had before and during filming.
Farm tenants Claudia and Beat Troxler stand in a pasture with a llama, several alpacas and one of their cows who all live with them at Lebenshof Aurelio in Lucerne, Switzerland. Lebenshot Aurelio is a former farm that transformed to a vegan farm and sanctuary. The animal residents here now will remain for the rest of their lives. Lebenshof Aurelio, Buron, Lucerne, Switzerland, 2022. Sabina Diethelm / We Animals Media
WAM: How do you hope the film inspires others?
TM: It's never too soon for examples of positive change. We readily see the things that we feel need to be changed but positive examples of large scale change are not always as obvious. I hope people can see and feel both the problem and solution simultaneously, to feel a sense of the pain these animals and farmers experience, but also a feeling of compassion, because developing this feeling can help make lasting, sustainable change.
SD: And hopefully other farmers who are stuck in the same situation will see that there's a viable alternative to how they're running the farm now that even allows them to keep the farm, work in agriculture still, but without using and abusing animals.
Nala, a domestic pig, and mini-goat Nemo beg for treats from sanctuary owners Beat and Claudia Troxler at Lebenshof Aurelio, a farm animal sanctuary in Lucerne, Switzerland. Lebenshof Aurelio is a former dairy and pig farm that has been "transfarmed" into a vegan farm and sanctuary with the help of Sarah Heiligtag of the Hof Narr sanctuary. The animals live on the farm without any requirement to serve a human purpose. Lebenshof Aurelio, Buron, Lucerne, Switzerland, 2022. Sabina Diethelm / We Animals Media
Selina Blaser works in the greenhouse on her newly "transfarmed" vegan farm and sanctuary KuhErde in Bowil, Switzerland. Instead of raising cattle for beef, she and her husband now plant chickpeas in their fields for hummus production. The cows on the farm are no longer fed for the purposes of fattening for slaughter and remain on the farm as permanent residents. Lebenshof KuhErde, Bowil, Bern, Switzerland, 2022. Sabina Diethelm / We Animals Media
WAM: Which came first for you: animals or filmmaking/photography? Can you tell us a little about your path to where you are today?
SD: I'd say that both have always had a place in my heart, but not in combination. This was actually the first time combining photography and animals. I first started taking pictures out of a purely aesthetic motivation, but then I wanted to start telling stories with my photography, actually say something and make an impact instead of just taking pretty pictures.
TM: Like Sabina, I always had an interest in both photography and animals. Though I started working in commercial photography, I was doing wildlife photography on my own time. I just wanted to take pretty pictures of animals, but then I visited my first sanctuary in Nosara, Costa Rica and it hit me like a ton of bricks why sanctuaries exist in the first place and the trauma these animals go through before finding refuge. Since then, stories at the intersection of our human and non-human experiences continue to open my eyes and capacity for compassion. It's not about the pictures any more.
Cattle run and jump with joy and excitement after being let out onto the pastures on Känguruhof farm for the first time during the springtime. Tamara and Stefan Krapf run this former grass-fed beef farm in Switzerland and are transitioning it into a vegan farm that functions harmoniously with the whole ecosystem. Känguruhof, Bernhardzell, St. Gallen, Switzerland, 2022. Sabina Diethelm / We Animals Media
WAM: What first engaged you about animal photojournalism and what's your advice for other filmmakers/photographers keen to break into this field? Any key lessons learned or words of wisdom you can share?
SD: In all honesty, for me, it was definitely getting to know the WAM founder Jo-Anne at a photojournalism festival. And once you get more involved with these topics, there's no going back. I'm still quite new to animal photojournalism, but you can't do this work without it changing your life. You really have to go into this with an open heart and mind, but be prepared to see things that are difficult to handle. Even if Switzerland is a place where the laws on animal farming are more strict than in other countries, there is still so much suffering inherent in this industry. And Sarah made a great point concerning this matter: to a suffering animal, it doesn't matter if conditions are even worse elsewhere. He or she is suffering nonetheless.
TM: There's no breaking in [to animal photojournalism], it's wide open. Just do meaningful work, share it, and then it starts to happen. Make sure you contribute your photos to WAM though.
Approximately 2,000 densely housed laying hens live on this organic egg farm in Switzerland. The concrete floor of this barn coupled with their tightly packed living conditions prevents the chickens from scratching and pecking on the floor, which is part of their natural behaviour. Due to their large numbers and crowded living conditions, these chickens are also subject to more frequent instances of disease compared to flocks of chickens kept in smaller groups. Naturhof Waltwil 4, Wengi bei Büren, Bern, Switzerland, 2022. Sabina Diethelm / We Animals Media
One of the resident pigs sleeps in straw at Sarah Heiligtag's "Hof Narr" Lebenshof (sanctuary) in Hinteregg, Switzerland. At least five pigs live here in a spacious barn with an outdoor area and regular access to pasture. The pigs at Hof Narr will live here permanently for the rest of their natural lives. Hof Narr, Hinteregg, Zurich, Switzerland, 2022. Sabina Diethelm / We Animals Media
WAM: What's next for you in your work? Are there any particular animal stories you're particularly compelled to tell?
TM: For me, it's establishing the Sanctuary Project as a non-profit and collaborating with more visual storytellers to increase the impact. In 2023 I plan to focus on homelessness and natural disasters.
SD: After this film, I kept going back to Sarah's sanctuary and I intend to keep documenting Sarah's work. I would love to photograph more strong and inspiring women doing work in this field.
Sarah Heiligtag plays with piglet Rosalie in the yard at Hof Narr in Hinteregg, Switzerland. Hof Narr is a vegan farm and animal sanctuary where chickens, ducks, cats, pigs, sheep, goats, horses and other farmed animals are free to roam and live out their natural lives without exploitation. Hof Narr, Hinteregg, Zurich, Switzerland, 2022. Sabina Diethelm / We Animals Media
Thomas Machowicz is a documentary photographer and filmmaker focusing on animal rescue efforts and social issues. He considers himself a conduit for stories meant to raise the consciousness of humanity and uses photography, film, lectures and workshops as tools to explore and share the human experience. View more of Thomas' work on our stock platform.
Sabina Diethelm is a freelance photographer and journalist based in Winterthur, Switzerland. Thanks to her experience as a journalist, editor, and more recently as a documentary photographer, she is an expert storyteller. View more of Sabina's work on our stock platform.
More like this from We Animals Media: