Seb Alex's 2022 Animal Photojournalism Fellowship Portfolio
Born and based in Lebanon, animal advocate and vegan educator Seb Alex has spent the past few years focused on photography, using his camera to expose what animal agriculture industries try to hide from the public. Seb was the first-ever We Animals Media's Animal Photojournalism Fellow, completing his Fellowship in 2022 over a period of eight months.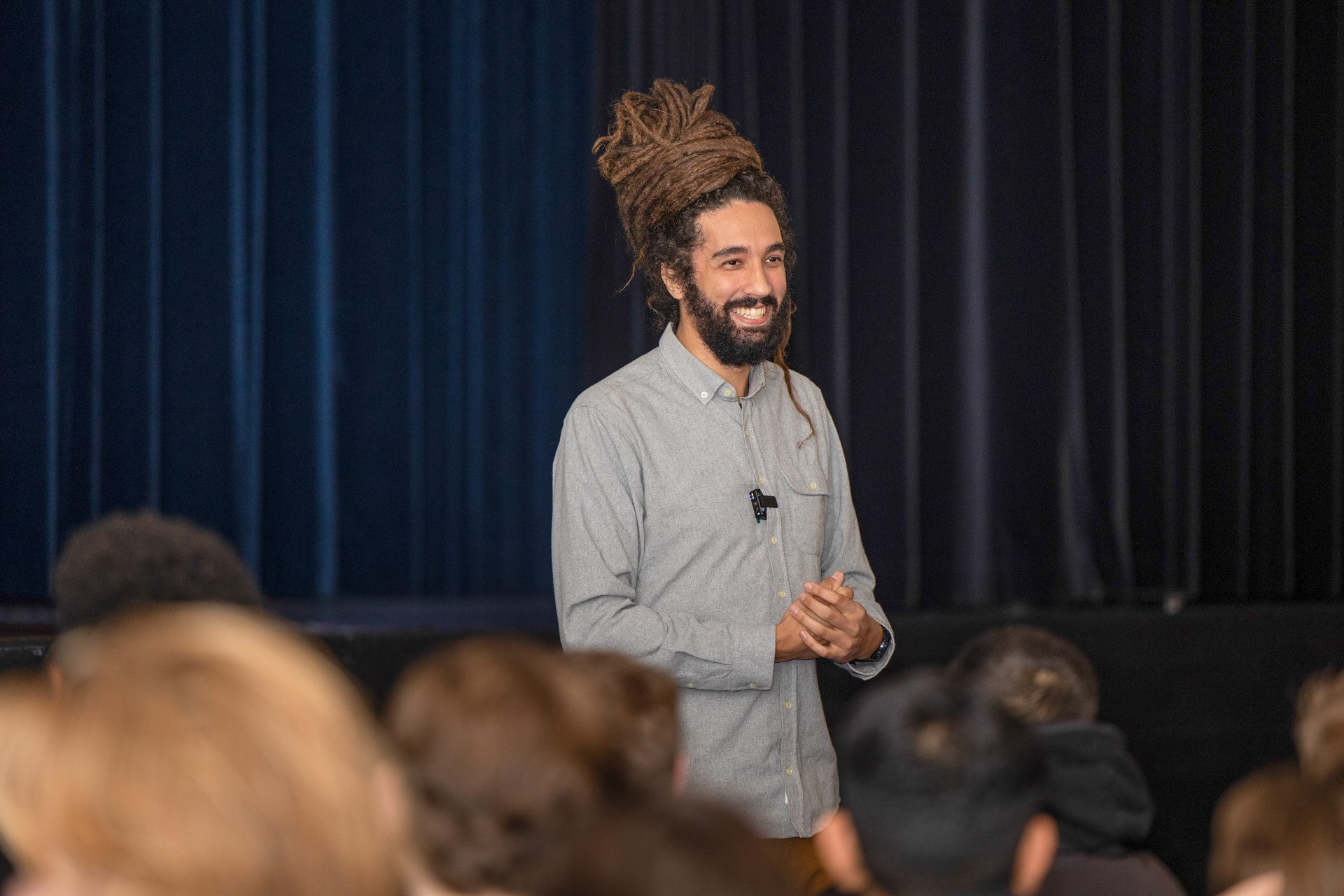 Animal Rights Activist and We Animals Media Fellow, Seb Alex.
Throughout his Fellowship, Seb worked remotely with Jo-Anne McArthur and the We Animals Media (WAM) team over a series of meetings and received CAD$6,400 to cover project and equipment costs.
Read on to find out what Seb had to say about his Fellowship experience and to view a selection of visuals from his Fellowship portfolio.
An Interview With Seb Alex
We sat down with Seb to find out about his Fellowship journey, including his time in the field documenting various animal industries and stories, his overall learnings from the WAM team, and what he's taking forward with him in his activism and photography work.
We Animals Media (WAM): What did the Fellowship help you achieve?
Seb Alex (SA): "It helped me create the time and space to concentrate on animal photojournalism more than I have done in the past, as well as get feedback from other animal photojournalists and editors."
WAM: What kinds of issues, industries and animal stories did you document? Do you have any particular stories from the field that you can share?
SA: "I tried to visit as many farms and industries as possible. I was able to shoot at chicken farms, rabbit farms, shrimp farms, lobster farms, frog farms and more.
A moment I'll never forget was how a baby rabbit was almost crushing their sibling while trying to reach for water in the same cage with their mother. There was simply not enough space to move around and there was nothing I could do to help. I hope when people see these photos they'll think twice about the importance of speaking up for animal rights."
WAM: What was your experience like in the field during your Fellowship assignments? What challenges did you encounter? What were some of the highlights for you?
SA: "The main challenge is usually the language barrier for me. Most if not all farmers here are always open to let photographers come in and document. I've never had anyone turn me down. However, sometimes I have questions about the practices or the animals and I struggle to communicate it with them.
The main highlight was being able to document at a rabbit farm. This is something I had never thought of. I was ''happy'', for lack of a better word, that their stories are going to be shared, as they are most of the time neglected."
WAM: How much did you explore image editing during the Fellowship and what did you learn? How might you weave aspects of those learnings into your work, whilst maintaining aspects of your unique style?
SA: "Image editing is the part I learned the most about during the fellowship as my style of editing was very different before I started working on this project. I tend to do some colour grading leaning towards orange/teal which makes photos look extremely moody, but I learned that photojournalism should be as objective and realistic as possible, otherwise people can claim that it's horrible or sad because it's edited to look that way."
Several egg-laying hens poke their necks out of the battery cages they are confined to at a chicken egg farm. Australia, 2019. Seb Alex / We Animals Media
Two female chickens look out between the slats of the cramped cage they live in at an intensive egg farm in Bali. Indonesia, 2022. Seb Alex / We Animals Media
WAM: What would you say to others who are considering applying to WAM's Animal Photojournalism Fellowship?
SA: "To take as much advantage as possible to ask questions as this is an amazing opportunity to learn from a group of people who have been doing this for a long time. The team has been overwhelmingly supportive and I want to take this opportunity to thank every single one of them for helping me out at all times no matter what I needed."
WAM: What's next for you in your work? Are there any animal stories you're particularly compelled to document?
SA: "I'm really interested in wildlife extinction and I would like to be able to work on that one day, but have no specific projects set at the moment for this. I'm also going to be working with Sinergia Animal on an assignment for an upcoming campaign of theirs, which has been made possible through my relationship with WAM."
WAM: Where can people view and follow your work?
SA: "My animal photojournalism can be found on WAM's stock platform and the rest of my work, including my projects and lectures, can be found on my website sebalex.org."
Seb Alex's Animal Photojournalism Fellowship Portfolio
[Content warning: Contains graphic images]
During his Fellowship Seb documented a variety of farmed animal industries in Indonesia, a region of Southeast Asia where animal farming is on the rise due to a growing population and increased demand for animal products.
Chicken Farming & Slaughterhouses
Indonesia, 2022. Seb Alex / We Animals Media
Chicken farming is booming in Indonesia and has grown by 56 percent from 2008 to 2018 in Southeast Asia. The Indonesian government estimates that the country's population of over 3.5 billion broiler chickens will increase by over eight percent each year between 2020 and 2024. This farm currently has approximately 10,000 broiler chicks inside, according to the farmer. Curious about Seb, many chicks came forward to investigate the camera lens and other equipment as they were being photographed.
While demand for chicken meat is a growing trend in Indonesia, chicken slaughterhouses there tend to be small and often located in backyards. Buying live chickens and slaughtering them at home before cooking them is common. Though only approximately 24 percent of chickens are killed in Indonesian slaughterhouses, new slaughterhouses with mechanized processing have been built in recent times to supply the growing demand. This mechanized slaughterhouse in Bali uses chains and machines to move the chickens through the processing areas. Workers told Seb this slaughterhouse can kill approximately 10,000 chickens daily.
Indonesia, 2022. Seb Alex / We Animals Media
This small-scale farm raises rabbits and chickens and was located close to a main road in Bali, Indonesia. The farm had about 10 to 15 rabbits housed in small, barren cages. In one cage, a mother rabbit and her young were squeezed inside with little room. The rabbit kits climbed over each other and were squeezed and trapped in the corner of the cage when they tried to drink. This corner was the only area in the cage where the mother rabbit could rest, but the water from the installed drinking pipe constantly dripped on her head. Reportedly, rabbits raised on small-scale Indonesian farms commonly suffer a 20–40 percent mortality rate within the four weeks prior to and after weaning.
Indonesia, 2022. Seb Alex / We Animals Media
Located near Indonesia's popular Mount Batukaru, this egg-laying chicken farm had approximately 10,000 chickens crammed inside a series of small wood and bamboo cages. Plastic trash and chicken feces were strewn about the area, including beneath the cages where the chickens live. Rats ran and jumped around the structures inside the building where the chickens are housed. Since the chickens' housing opens to the outdoors, any animal could easily enter the farm, making it possible for disease transmission from one species to another.
Egg consumption has risen steadily in Indonesia since the late 1960s, growing to just over 15 kilograms of eggs consumed per person in 2019 compared with less than 0.5 kilograms per person in 1961. Indonesia's egg production has also shown consistent growth with this demand. As of 2020, Indonesia's egg production continues to increase by just over 10 per cent per year, producing approximately 5.4 million tonnes of eggs in 2020 alone.
Indonesia, 2022. Seb Alex / We Animals Media
Frog farming and consuming frog flesh are not unusual practices in Indonesia, where frogs are raised for both domestic consumption and for frog leg exports. The majority of frog legs supplied to western Europe originate from frog farms in Indonesia, which exports more than 5,000 tonnes of frog meat annually. This translates to well over 180 million frogs per year.
Domestically, frog flesh is commonly sold in restaurants that offer Chinese cuisine. Bullfrogs are the most commonly farmed species of frogs in this area in Indonesia and the world over. While their usual natural habitat would be a lake, a pond, a swamp, a river, a stream or simply the bushes, they are kept and raised in small concrete squares, making it impossible for them to experience the natural world. This farm had around 3,000-4,000 bullfrogs. Hundreds were in each pit, and the ones who were used for breeding were nearby, in another area and much bigger in size.
Indonesia, 2022. Seb Alex / We Animals Media
Cockfighting, or ajen, is quite common in Bali, Indonesia. Cockfights inside Hindu temples are practiced as a ritual sacrifice to ward off evil spirits. Outside the temples, cockfighting in Bali often involves gambling. Since the Indonesian government outlawed gambling in the 1980s, these cockfights may happen in more private locations and authorities do not closely monitor it.
Before a fight, the roosters are kept inside small braided baskets placed along roadsides to force them to get used to the noise during a cockfight. Just before a fight, sharp blades are usually added to the natural spurs that grow on a rooster's feet to make it easier for birds to kill each other. At a cockfight people often bet and force birds to fight to the death. The losing rooster may also be butchered and cooked as a meal for the winning animal's owner.
Shrimp and Lobster farming
Indonesia, 2022. Seb Alex / We Animals Media
In the southeast region of Lombok, Indonesia, large swaths of coastal land have been cleared and dug out for countless shrimp farming ponds. In order to raise shrimp, the local farmers fill the ponds with seawater, which flows in from the ocean at high tide. According to the farmer, each pond contains approximately 30,000 shrimp, and they are killed at around three months of age.
To harvest the shrimp, the farmers open drainage pipes to empty the ponds, letting the water flow back out to the ocean. Nets attached to the pipes catch the shrimp who are carried along with the draining water. According to the farmer, "eyestalk ablation", which is the removal of a female shrimp's eyestalk to increase their egg production and force them to spawn, is not practiced at this farm. Since the 1990s, farmed shrimp have been one of Indonesia's top exports and the industry is highly profitable. Shrimp farming is considered a business with a guaranteed and stable income and farmers feel very safe with their investment.
Indonesia, 2022. Seb Alex / We Animals Media
Walking catfish are freshwater fish native to Southeast Asia, with both native and introduced populations in Indonesia. The most common and widely farmed fish in Indonesia, this species has the ability to breathe air and can use their pectoral fins to move short distances out of water and across land. Aquaculture in Indonesia has significantly increased since 2015 and the country now ranks third in world aquaculture for all fish production.
This catfish farm, which has several ponds of different sizes, had the capacity to hold 1,800 tonnes of catfish at any given time, according to the farmer. The water was dirty and green algae floated on the surface of some ponds, emitting a foul smell. Countless dead catfish floated in the water, their bodies either slowly rotting or cannibalized.
Watch this Video from Seb about his Fellowship journey
View Seb's full collection of visuals from his Fellowship portfolio and more via the We Animals Media stock platform.
We'll be announcing the We Animals Media 2023 Animal Photojournalism Fellowship in early 2023. Subscribe to our newsletter or follow us on social media to stay updated.
More like this from We Animals Media: