The Decline of Fur Farming in Canada
Mink in a very small cage at a fur farm in British Columbia. Canada, 2014. Jo-Anne McArthur / #MakeFurHistory / We Animals Media
In many countries around the world, markets for fur are closing down as demand wanes. This year, on February 9, 2022, the first-ever national Bill to ban fur farms was introduced in Canada (Bill C-247).
A growing number of leading fashion brands are going fur-free, with pressure from consumers and animal protection groups being the driving factor behind their shift away from fur products. To date,
22 countries in Europe
have made steps towards a fur-free future, from full production bans to stricter industry regulations. Ireland became the most recent country to ban fur farming, with the three remaining Irish mink fur farms expected to close within the year. Which country will be next to outright ban fur farming?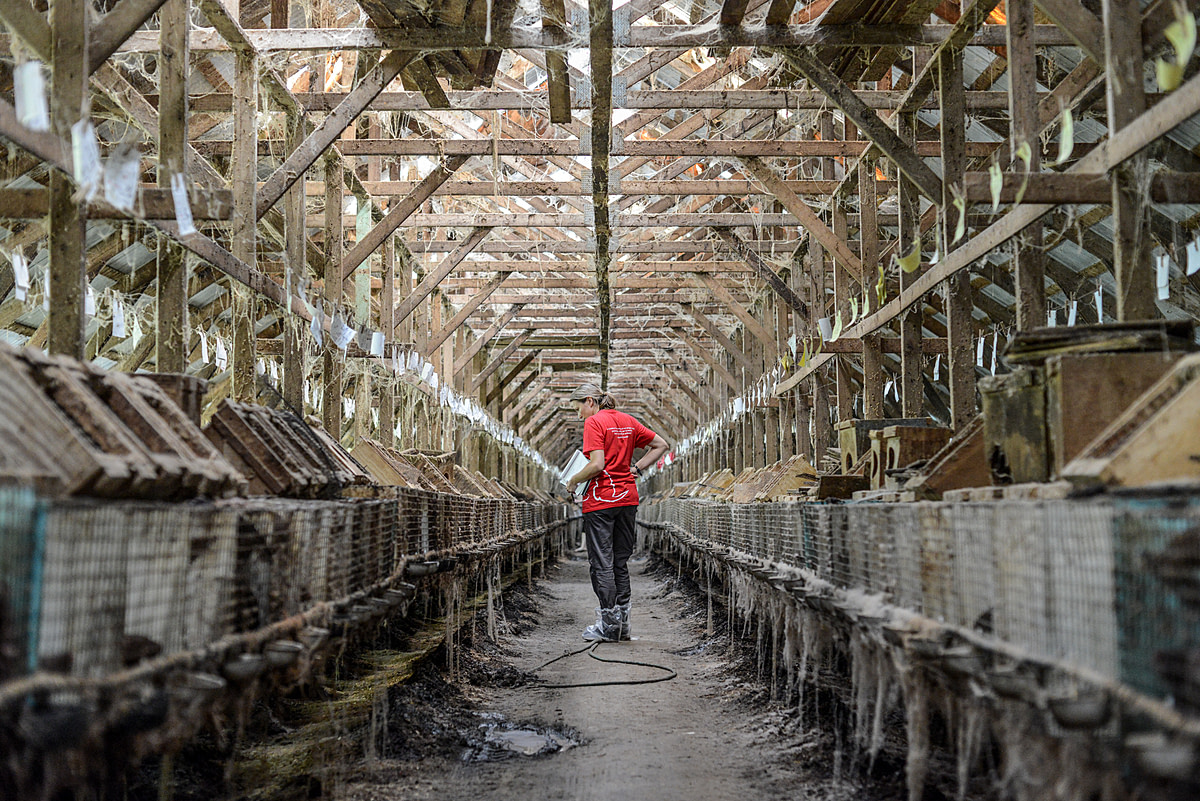 A mink farm investigation by the Montreal SPCA. The farm was closed down. Canada, 2014. Jo-Anne McArthur / #MakeFurHistory / We Animals Media
Fur farms in Canada are already in steep decline. In 2011 there were 347, and last year only 97 remained. The numbers of foxes and minks raised and killed for fur has likewise dropped significantly. Before the decline of fur farming in Canada,
more than three million animals
were killed for their fur each year, the vast majority of whom were minks and foxes raised in captivity specifically for the industry.
According to a recent poll from The Fur-Bearers, 74% of Canadians support the proposed national ban on fur farming (Bill C-247). As with a growing number of nations, people are calling on their government to pass a ban on this farming practice for a variety of reasons, most notably for animal welfare and public health concerns. In 2019 we went to Canada's east coast to document how the government there had been supporting this industry over the interests and desires of its residents.
Watch our film on Canadian fur farms
The problems with fur farming are many.
They employ very few people and often exist on government subsidies. The environmental cost is high: runoff from mink farms can cause blue-green algae to bloom in nearby waterways, polluting them irreparably and sickening other wildlife and humans.
Fur farming is also, of course, of detriment to the animals themselves. Minks are solitary carnivorous animals, spending up to 60% of their time in water. On farms, cages meet legal minimum welfare standards of on average 1 foot x 1 foot x 3 feet. Females are impregnated and give birth twice a year with litters of up to ten kits, who grow quickly and further crowd the cage, which can lead to stress and cannibalism. Minks raised for fur are killed either by gassing or electrocution.
In addition to the environmental and animal welfare issues related with this industry, risk to public health is of growing concern. In 2020, the novel coronavirus (SARS-CoV-2) infected minks, endangering animals, farm workers and the general public due to the risk of virus mutation. As a result, countries in Scandinavia, Europe and North America culled farmed minks; by the end of 2020, Denmark became a mass grave to an estimated 17 million minks.
Jo-Anne McArthur / We Animals Media
Making Fur History in Canada
Efforts to close fur farms have been long and multi-pronged: activism and advocacy, photojournalism, legal work and pandemic-related health orders. In 2013 and 2015 our team crossed Canada, photographing these farms, creating materials that have been used relentlessly in campaigns.
Mink frequently wound and cannibalize one another in the cramped conditions of fur farms. Sweden, 2010. Jo-Anne McArthur / Djurrattsalliansen / We Animals Media
Visit our stock platform to explore and download these visuals and help make fur history.
Donate today and help us continue to produce compelling global investigations into these cruel industries.
More like this from We Animals Media: