Assignment: Bird Flu (H5N1) Spreads Across the US, Canada and Europe
A small, curious backyard flock of laying hens. Canada, 2022. Jo-Anne McArthur / We Animals Media
As we continue to deal with the COVID-19 pandemic, the highly pathogenic avian influenza (H5N1) is affecting millions of wild and domesticated bird populations in North America, Europe, and Asia. This month, We Animals Media contributors Jo-Anne McArthur and Victoria de Martigny are on the ground in Canada to document the impact of the virus on chickens and ducks in farms across the provinces of Ontario and Quebec.
"I've gone out around southern Ontario a number of times now, following the growing number of H5N1 control zones listed on the Canadian Food Inspection Agency's website. In those areas, I talk with people to get a sense of what they are feeling about the situation, their concerns, or lack thereof. I shoot from the road, or with permission." ― Jo-Anne McArthur, We Animals Media Founder & animal photojournalist
Avian influenza, more commonly referred to as bird flu, is a highly contagious virus that is transmitted among wild bird populations and deadly to domesticated birds who contract it. In rare cases it can affect humans.
When the virus is detected in farm flocks, the farms are deemed a biosecurity hazard and so the birds are often killed, or "depopulated" in industry terms. Depending on the country, the means of ending the birds' lives are by live burial, CO2 poisoning, ventilation shutdown, or through the use of firefighting foam which asphyxiates the birds.
Masses of dead hens lie piled inside the bucket of a loader as they are carried to a dumpster at an egg farm near Prague in Czechia. The hens have been killed and are being removed from the farm due to an outbreak of the H5N1 bird flu virus on the farm. Czechia, 2021. Lukas Vincour / Zvířata Nejíme / We Animals Media
In 2021, the highly contagious avian flu virus swept across Europe and millions of birds either died or were put to death to mitigate the spread. At least two outbreaks of the H5N1 bird flu virus type occurred in Czechia (Czech Republic) in 2021. The second outbreak occurred on a commercial egg production farm in Libotenice, located north of Prague. At this farm, more than half its population of at least 188,000 hens died from the virus. The rest, numbering approximately 80,000 individuals, were killed to stop the virus' spread. According to Czechia's State Veterinary Association, this was one of the country's largest-ever outbreaks of bird flu.
How Does Ventilation Shutdown Work?
Direct Action Everywhere (DxE) investigators documented the aftermath of a mass "depopulation" of more than five million egg-laying hens at a farm in Iowa, after avian influenza, also known as asian highly pathogenic avian influenza (HPAI), of the virus type H5N1 was detected at the site in March 2022.
Aerial view of a massive factory farm in Iowa housing more than 5 million chickens. Thousands of dead hens who were recently killed via ventilation shut down are loaded into trucks via conveyor belts. USA, 2022. Direct Action Everywhere / We Animals Media
Two hens who survived the ventilation shut-down huddle together in a small battery cage at a factory farm in Iowa. They are lethargic and missing most of their feathers. USA, 2022. Direct Action Everywhere / We Animals Media
The birds were killed using a controversial method known as ventilation shutdown plus (VSD+). With this method, vents are closed, buildings are sealed to prevent airflow, and then some combination of heat, steam and/or carbon dioxide gas is pumped into the building until the birds eventually die from overheating, a result of hyperthermia and/or suffocation. Virtually all of the five million birds at this farm were killed, except for a very small number who managed to survive. Investigators found hens cowering in their cages and running loose in the sheds. This mass kill was one of the largest from this type of farm in the US, and required almost a month for workers to remove and dispose of their bodies.
Thousands of dead chickens are removed from a shed by conveyor belt and loaded into a truck at a factory farm in Iowa. USA, 2022. Direct Action Everywhere / We Animals Media
Research footage
recently obtained by the organization Animal Outlook reveals how ventilation shutdown was originally tested in the wake of the 2015 bird flu outbreak that resulted in the culling of approximately 50 million farmed birds – not all of them necessarily infected – across the United States. The industry-funded experiments were conducted in order to determine the most "humane" method for the mass culling of farmed birds. "Humane," however, was not defined in the research proposal. This method of mass culling is quickly becoming the industry standard and despite the obvious animal welfare concerns, the main conversations to have emerged from these culls are about the industry's shortage of egg-laying hens and
why eggs cost so much
.
"These are birds in extreme distress. They are literally fighting for their lives, they're gasping for air, they're struggling. The videos don't have any audio, but these birds look like they're vocalizing to me. I think they were probably crying out. In the global scientific community, it's generally accepted that, if one could assume that a procedure would cause pain or distress to a human, you can also assume it would do the same for an animal." ― Sherstin Rosenberg, veterinarian for Happy Hen animal sanctuary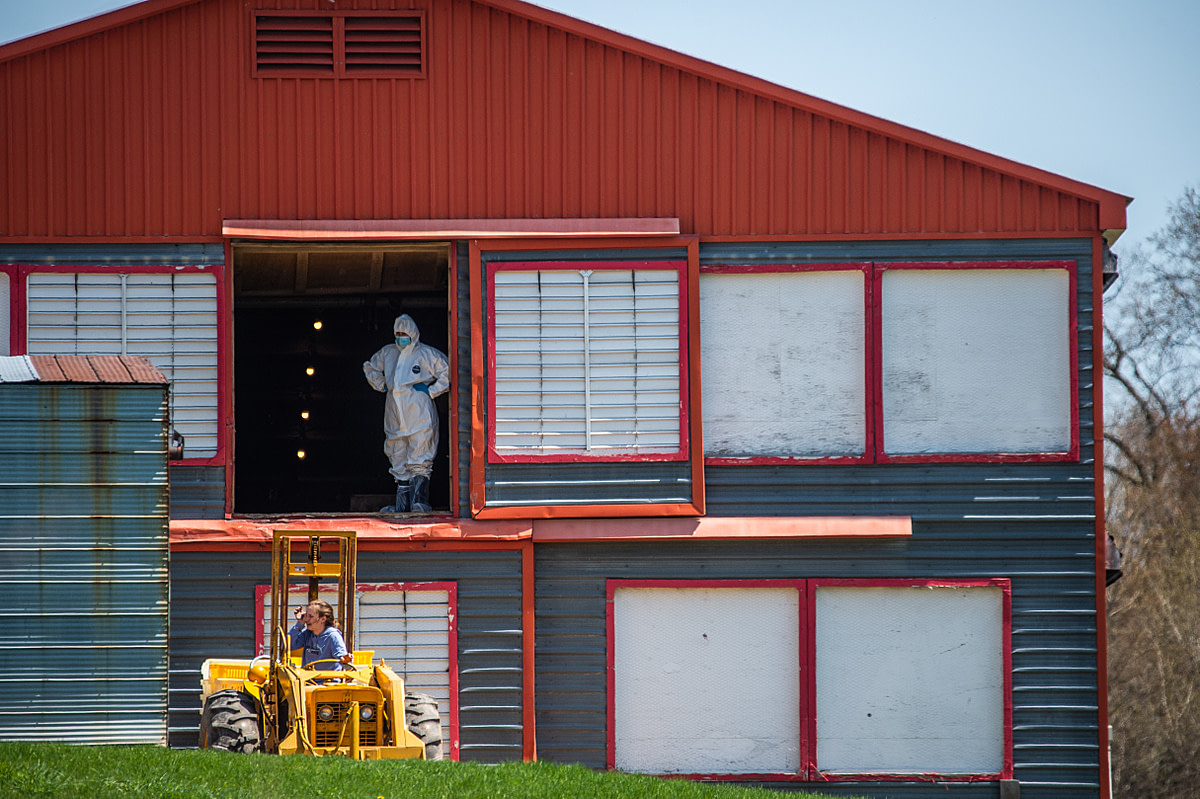 People at a duck farm in a biosecurity zone. It's possible that birds diagnosed with the highly pathogenic H5N1 virus were found here. If confirmed, the birds will be killed by carbon dioxide gas (CO2). Canada, 2022. Jo-Anne McArthur / We Animals Media
How Many Birds Have Died From The North America Outbreak?
"When I saw dumpsters covered in feathers a few hundred yards from a massive duck farm, I knew it would be bad. Then we got closer and saw a severed leg on top. When we opened the lid, it was a horror show: hundreds of mutilated ducks, discarded as waste. Their faces stay with me long after I leave the scene. I don't want to put them out of my mind because I may be the only person who ever saw them as individuals who wanted to live – and I think it's important for someone to acknowledge that." ― Victoria de Martigny, animal photojournalist
The discarded carcasses of dead Pekin ducks lie in a dumpster a few hundred meters from a Brome Lake Ducks facility in Racine, Quebec. Most of the ducks have been cut open, and it appears as though the upper coelomic cavity was being targeted, possibly to collect samples from the heart, lungs, or trachea. Canada, 2022. Victoria de Martigny / We Animals Media
Small flocks, backyard flocks, and animal sanctuaries are also affected. If the virus is detected at these farms, all the birds must be killed as well. A small flock farmer from Southern Ontario expressed that they would follow regulations and be without birds for the required time. In the control zones around Southern Ontario, many farms have biosecurity signs, prohibiting pedestrian and vehicular traffic from entering the properties.
"King Cole Ducks, a company that grows hundreds of thousands of ducks each year, shooed me away when I pulled up to ask what was happening at their building on Warden Ave that day. Several people were getting geared up in Hazmat suits. Before I left, the CFIA agent, leaning on our car window with a look of sleep deprivation and stress, offered this: 'It's getting worse.' And it has. Nearby I photographed a backyard flock of one hundred gorgeous, curious hens. I asked the farmer what he would do if H5N1 hit his flock. 'I'll follow the regulations and destroy them. It's okay. They essentially pay for themselves with the eggs they lay. I'll just go a while without hens and then replace them when we are allowed.' " ― Jo-Anne McArthur
Cases of avian influenza are on the rise globally with more and more domesticated birds contracting the disease from migratory bird populations. The commercial production of birds poses a particular risk, with intensive farming of birds providing the perfect conditions for this viral disease to spread. These visuals offer a glimpse into the story so far.
Donate today and help us continue to produce compelling global investigations into these cruel industries.
More like this from We Animals Media: