System Shutdowns and The Failures of Factory Farming
Meat processing plants, or slaughterhouses, have been making headlines these past months as epicenters of the coronavirus pandemic. Outbreaks of positive cases amongst workers have caused the industry's rapid processing lines to slow or stop for days on end, resulting in a pileup of tens of millions of animals who have reached slaughter weight with nowhere to go.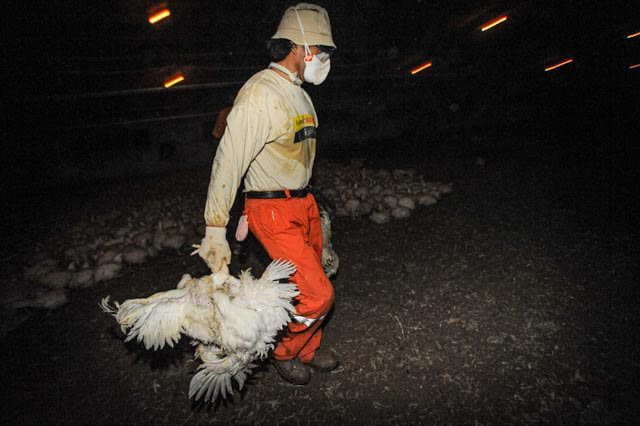 Empty slaughterhouse. Turkey.
Much of this burden falls on the farms, which are designed neither to kill nor dispose of animals en masse, and the methods many resort to are truly disturbing. One farmer reported shooting all 3,000 of his pigs over the course of a day. Tanks of carbon dioxide are pumped into barns to gas and suffocate chickens by the thousands. Recently, undercover footage from a pig farm in Iowa documented a deliberate ventilation shutdown followed by the release of hot steam into a barn full of live animals. With temperatures in excess of 140 degrees, the animals inside were slowly roasted.
Pigs in a dumpster. Spain.
As a practice, the culling and subsequent disposal of animals en masse pre-dates the current Covid-19 outbreak. It's the unfortunate answer from a system whose scale defies logic to the challenges presented by unanticipated supply chain disruptions. As factory farms continue to grow in size, and supply chains become increasingly monopolized, times of crisis reveal troubling vulnerabilities in the American food system. The close confinement of factory farmed animals is a death sentence when lethal strains of swine or avian flu spark an outbreak. Rescue is not an option for the millions of chickens or tens of thousands of pigs who become immediately trapped in the face of catastrophic events like hurricanes, tornadoes, or fires. Each time any one of these indisputable disasters strikes, massive numbers of animals are killed, yet each time the numbers are reported, they still continue to astound us.
Drowned bodies of broiler chickens in the flood water. North Carolina, USA.
The number of animals that have and will continue to be culled in the wake of Covid-19 represent a mere fraction of those who are killed for our consumption every single day. Their deaths, now newsworthy, reveal the failings of a system destined to repeat itself.
More like this from We Animals Media: