Assignment: BC Flood Impact On Animal Lives
A barn sits in the still waters of the flooded fields in Abbotsford, BC. Canada, 2021. Nick Schafer / We Animals Media
The Canadian Province of British Columbia has felt the devastating effects of climate change throughout 2021 with wildfires, a heat dome and most recently, severe flooding.
Last month, an atmospheric river dropped a month's worth of rain on southern BC in less than two days. People have died, their homes and livelihoods devastated, and hundreds of thousands of animals have perished in the disaster.
Despite challenging access, We Animals Media photographer Nick Schafer was on the ground in Abbotsford to document the catastrophic floods and share the untold stories of these farmed animals.
Ground zero for the November floods hit one of Canada's largest animal agriculture zones in the Fraser Valley, which produces 75% of the dairy and the majority of the chicken and eggs for the province.
As of December 2, a report from CTV News Vancouver estimates a devastating farmed animal death toll: 628,000 poultry, 12,000 hogs, 420 cows; and a further 800 farms are still under evacuation. Citizens with their own boats, who were attempting to save human and non-human animals, were ticketed, told to leave the area and fined $2,000 each.
"I believe it is important to tell these stories in order to help people make the connection. People are so devastated to hear how many animals died." — Nick Schafer, Animal Photojournalist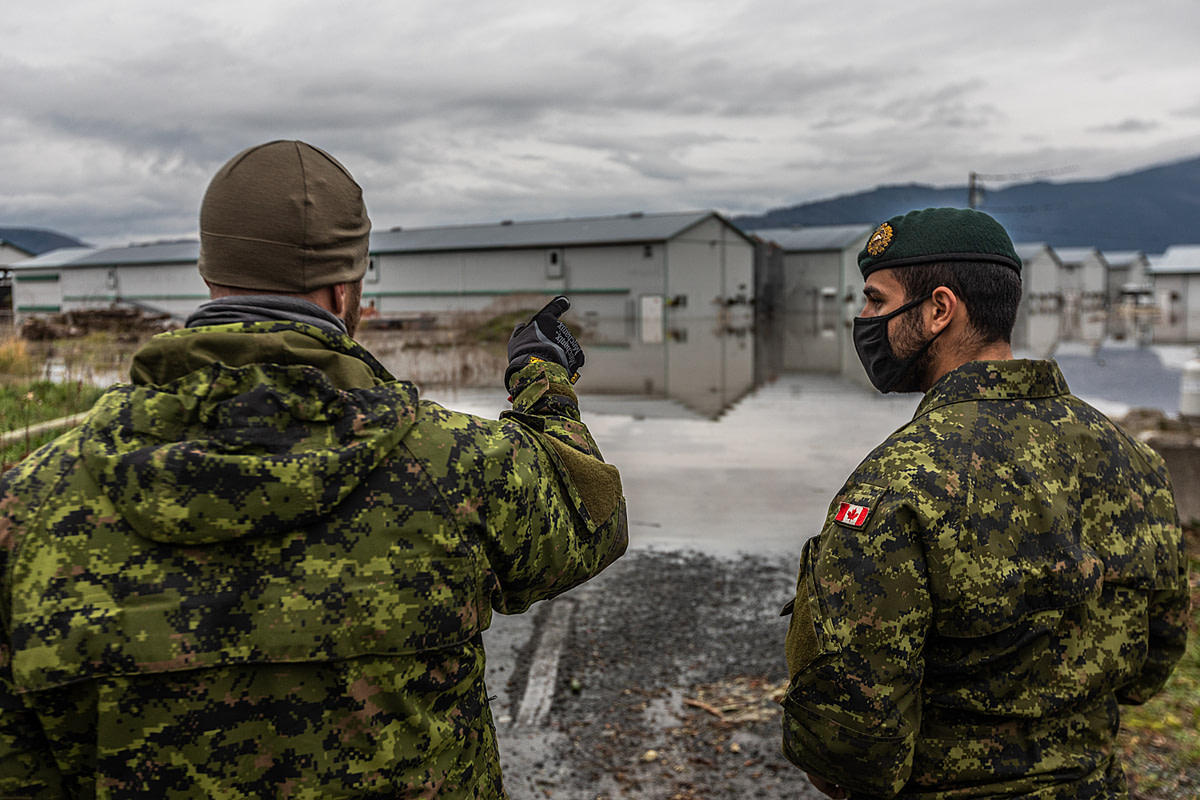 Two members of the Canadian military discuss plans for how to move more than 10,000 chickens from one barn to another during a devastating flood in Abbotsford, BC. Canada, 2021. Nick Schafer / We Animals Media
These floods followed a summer of wildfires in the province that forced people and animals to evacuate their homes, many of which were destroyed. The entire village of Lytton was razed to the ground after the temperature peaked at nearly 50 degrees the day before, breaking the Canadian record for hottest day. Forestry experts note the fires exacerbated landslide and flood risk by creating water-repellent soil.
The flood clean up continues and further heavy rain is expected. As the frequency of extreme weather events increases around the globe, more and more we're seeing the impact of climate change on the lives of human and non-human animals alike.
Donate today to help us continue documenting the lives of animals in the human environment.
More like this from We Animals Media: