Regan Russell: Rest in Power
Signs, candles and flowers in Montreal's Saint Louis Square, a tribute to fallen animal rights activist Regan Russell. Photo: Victoria de Martigny.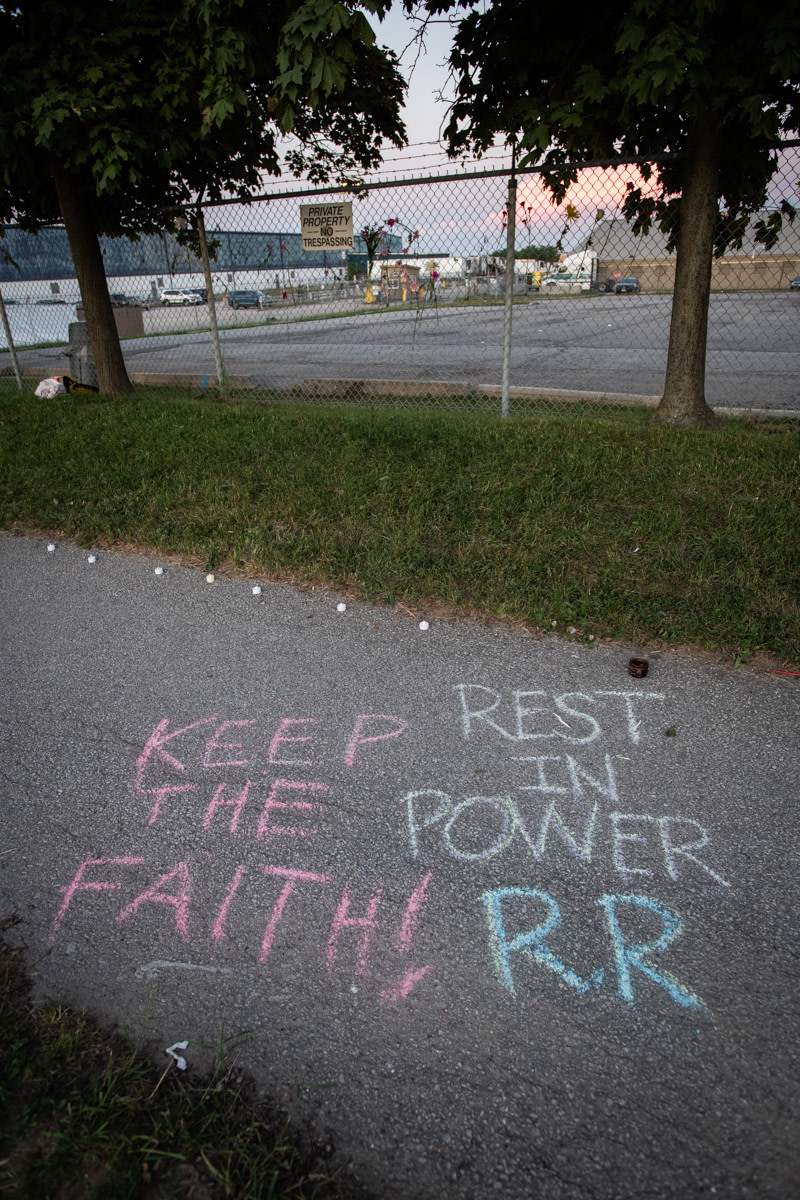 Chalk messages outside Fearman's Pork where activist Regan Russell was killed by a truck carrying pigs to slaughter. Photo: Jo-Anne McArthur
To view more images from this story, please visit our Vigil4Regan collection on the We Animals Archive.
On Friday, June 19, Regan Russell was run down and killed by a transport truck carrying pigs to slaughter at Fearmans Pork in Burlington, Ontario, Canada. ​
She had been dedicated to animal rights since 1979 and was a long time activist with Animal Save Movement. Her last moments were spent bearing witness and showing kindness and compassion to animals who would have otherwise remained invisible.
"Regan was a fearless fighter and a peacemaker. She bore witness today to offer water to the pigs on a scorching hot day, offering them a final moment of peace – as she had done many times before in legal protest."

– Animal Save Movement
"Regan was a kind, elegant, strong, and courageous person," said Anita Krajnc, founder of Animal Save Movement.
"She was a mentor to others, and she always did activism with kindness in her heart. Just like we speak up against Fearmans for murdering innocent beings, we will not stand back as that industry of death shamelessly steals the life of a warrior. She died fighting against an industry that hides the truth, as shown by the passing of ag gag legislation, Bill 156, just days ago. Regan was a wife, a daughter, a best friend, and we will not let the candles go out," continued Krajnc.
Friends and community gathered outside Fearmans Pork, where Regan Russell was killed, to collectively mourn and support one another. Photos: Jo-Anne McArthur
Our friends at Animal Justice have reported that "Regan was killed only two days after Ontario passed Bill 156, a dangerous ag gag law designed to cover up animal cruelty on farms and during transport. The law specifically targets people like Regan, who gather outside slaughterhouses to protest cruel conditions and expose animal suffering to the world through photos and videos. We fear the new law has already emboldened the meat industry to declare open season on animal advocates," said Animal Justice Executive Director, Camille Labchuk.
The worldwide community is devastated, and her friends and comrades are in shock.
These images were captured outside Fearmans Pork slaughterhouse on the day of her death as well as Sunday, June 21, during peaceful vigils to honour and mourn the loss of Regan's life. Photos: Jo-Anne McArthur
Friends and community, including Regan's parents and husband, gathered to collectively mourn, support one another, and celebrate Regan's life. Photos: Jo-Anne McArthur
On Sunday, hundreds of us felt as one, as friends, activists, mourners, and family. Regan's parents, husband, and stepson attended and spoke beautifully of her life and mission. Regan was a long-time activist for animals, people, and the environment. She showed up. She had even been arrested eleven times for protesting like she was doing on Friday when she was killed. Many stories of Regan's humanity will surface. This week and ongoing, we must continue to share those stories and honour Regan.
Activists gather for a candlelight vigil in honour of Regan Russell at Saint Louis Square in Montreal.
Photos: Victoria de Martigny.
Let's continue to rally together and support one another in this time of collective grief. Violence towards us will not muzzle our hearts, our words, or our actions.
We will be following along closely as both Animal Justice and Animal Save Movement work to seek justice on behalf of Regan Russell.
To learn more, please visit Animal Justice and Animal Save Movement.
If you'd like to help assist Regan's family with funeral and legal expenses, you can support through GoFundMe. Additional funds raised will help carry on Regan's legacy.
To use these images and view more from this story, please visit our Vigil4Regan collection on the We Animals Archive.
More like this from We Animals Media: