Meet The Team: Kale Ridsdale – Managing Director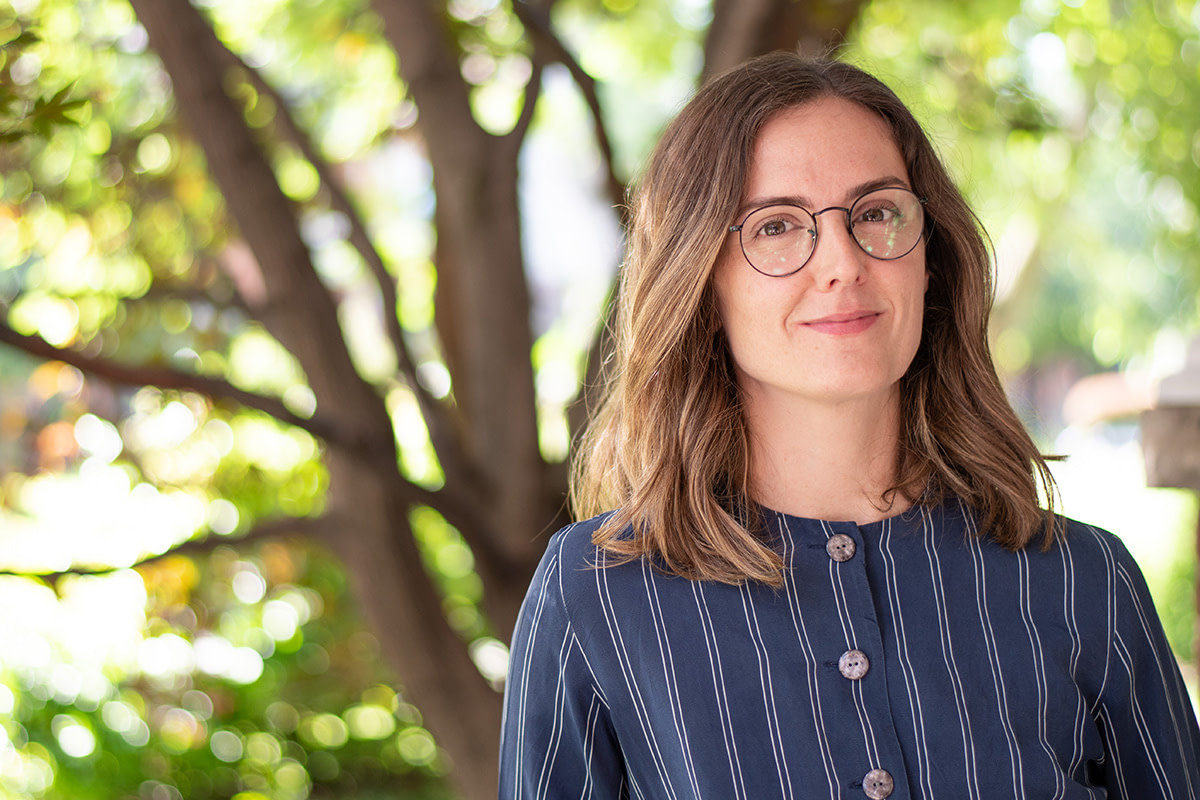 Kale Ridsdale – Managing Director. Photo credit: Torrance McCartney
Meet some of the wonderful individuals behind We Animals Media (WAM) in our 'Meet the Team' Q&A series. Each month throughout 2023 we'll be publishing a new behind-the-scenes feature for you to learn about the folks at WAM.
This month we spoke with our Managing Director, Kale Ridsdale, who will be moving on to new career adventures after September. We'd like to take this opportunity to share some things about Kale and her integral role at WAM these past 4.5 years.
Where I live now
I'm based in Toronto, Canada.
Interesting/fun fact!
Kale is a nickname I've had since I was little. My parents aren't hippies and didn't intend to predestine me to be vegan.
What's my background
I got my first full time job offer at a startup company creating self-development programs and tools when I was in my 3rd year of undergrad (I was studying completely unrelated Nutrition and Food). I worked there for several years in different research, program development and evaluation roles and eventually finished my degree in night classes before going abroad to do a masters in Philosophy. I then went on to do some project management and program development consulting while doing some serious soul searching about how to best use my skills towards an impactful and interesting career. That's when I came across the effective altruism space and realized there were people thinking seriously and rigorously about the problem of animal suffering. I landed a fellowship at Animal Charity Evaluators (then an internship program) before being connected with Jo who, at the time, had recently received a grant to turn her brand We Animals into the non-profit it is now, We Animals Media.
What I do at We Animals Media (WAM)
I was hired at WAM as a Director of Operations and was promoted to Managing Director in 2021, working alongside the organization's Founder, Jo-Anne McArthur. In these positions I've been able to help grow WAM from the ground up by helping the team identify and work towards our strategic objectives and by providing scaffolding and focus. I enjoy puzzle-piecing together what resources, structures and processes we need in order to work towards our goals in a way that feels exciting, sustainable and enables excellence.
Favourite snack
Not a common snack but an absolute delight when I do have it: a slice of cake with black coffee. I have a massive sweet tooth.
If I had a superpower, it would be…
The ability to walk into rich people's homes and have them not blink an eye about me being there. I don't want to be invisible though; that feels creepy and it'd be hard to use their kitchen. I'd just like to be allowed to be there as if I live there for as long as I please.
Guilty pleasures
Spending way too much time choosing a new desktop wallpaper image; taking the stairs two at a time and beating the people on the escalator and acting like I didn't notice and I'm not out of breath; going to bed too early; picking flowers from other people's yards.
A typical day for me at WAM
My days vary a lot and I have loved that about my position. I can be putting together a request for funding, troubleshooting how the team can use meetings more effectively, reviewing financials, looking into employment standards in a different province, reviewing a team member's project plan, conducting an interview, or having strategy conversations about our objectives for the year. What stays constant is how I do my work: I plan my weeks and days using a pen-and-paper productivity planner and work with a pomodoro timer. If I don't use this I reliably feel more scattered.
Working at WAM involves dealing with difficult subject matter on a regular basis. How I cope and my advice for others working in similar fields
In my role I could easily get away with having minimal contact with our visuals but as someone in a leadership position at WAM, it feels essential to me to be in touch with what some of my colleagues are seeing on a daily basis. So I make a point to look at every single image that's uploaded to our stock platform. My strategy is to choose times to do this when it won't interrupt my work day, and unless an image really catches my attention, to not look at them for too long. It also helps that I'm not looking purely for the sake of witnessing but with the intention of staying connected to what we're doing here at WAM.
What I love about working at WAM
Where to begin. Working with WAM has made an immeasurable contribution to my life. I've loved working for such a badass mission (always a fun ice breaker when meeting someone new… received with mixed results) and navigating the question of how to best use photojournalism to make change for animals. I've also loved how it has allowed me to grow as a person and a professional. While it hasn't always been easy, Jo-Anne and the team have lifted me up and allowed me to grow into my leadership, and I now know myself differently than I did before. I have so much gratitude for the last 4.5 years with this team of humble, silly and dedicated people.
The WAM team would like to extend their heartfelt thanks to Kale for her invaluable contributions and dedication to the organization. We wish her all the very best in her next endeavours!
More like this from We Animals Media: