Our Top 10 Images For Earth Day
The role of and impact on animals is too often overlooked in our conversations about climate and the environment.
Visuals from We Animals Media document these underreported stories: wildfires in
Australia
,
Canada and the US
;
floods in Canada
; and pigs in the US flooded by
Hurricane Florence
. The role of animal agriculture in these events is frequently underplayed,
despite the evidence
of animal agriculture's significant role in methane, nitrous oxide and carbon dioxide emissions, feed inefficiencies, deforestation, and land and water overuse.
April 22 is Earth Day, an annual global initiative to raise awareness of the negative impacts of human activity on the environment, and drive positive action for the planet. We've curated a gallery of our top Earth Day images to help inspire compassion, conversation and change! Take part in Earth Day 2022 by sharing these compelling visuals and connect your community to the stories that matter.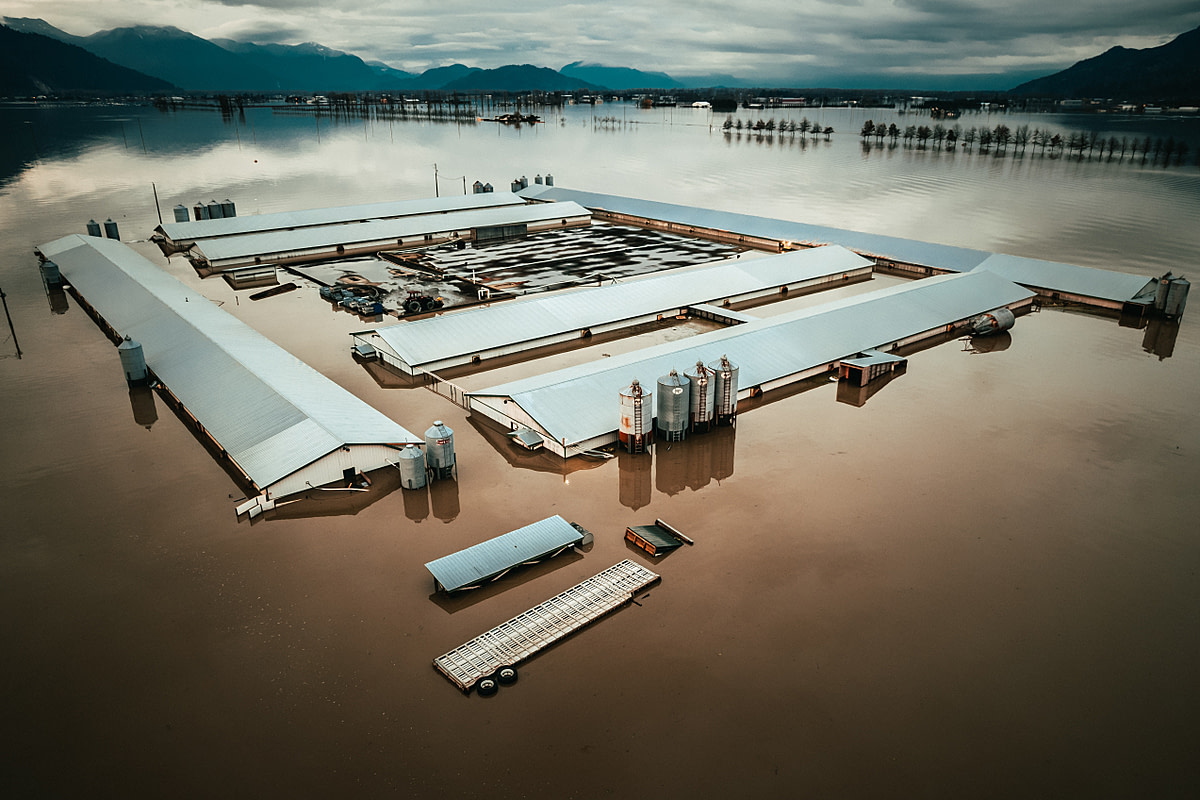 A farm sits partially submerged in water from the Abbotsford, BC floods in November of 2021. British Columbia has felt the devastating effects of climate change throughout 2021 with wildfires, a heat dome and most recently, severe flooding. Ground zero for the November floods hit one of Canada's largest animal agriculture zones in the Fraser Valley, which produces 75% of the dairy and the majority of the chicken and eggs for the province. When the floods inundated Abbotsford, hundreds of thousands of animals, mostly chickens, are believed to have perished in the disaster. Canada, 2021. Nick Schafer Media / We Animals Media.
Hope in a burned plantation. An Eastern grey kangaroo and her joey who survived the forest fires in Mallacoota, Victoria, which had been severely affected by the bushfires. An estimated three billion animals were killed or displaced in fires that season. Australia, 2020. Jo-Anne McArthur / We Animals Media. This photograph was the winner of the 2020 Nature Photographer Of The Year competition (Man & Nature category).
Pigs who survived the hurricane and escaped their farm, swim through flood waters. In September 2018, We Animals Media contributors travelled to North Carolina to document the aftermath of Hurricane Florence, which caused the death of at least 5.5 million farmed animals and widespread environmental devastation from breaches in toxic manure lagoons. USA, 2018. Kelly Guerin / We Animals Media.
Animals transported for slaughter from across Europe through the Bulgarian-Turkish border. Farmed animals are transported by multi-tiered trucks from all across the European Union through the Bulgarian border into Turkey, for slaughter. Turkey, 2018. Jo-Anne McArthur / Eyes on Animals / We Animals Media. This photograph won 1st place in the 2021 Earth Project – COP26 (Gallery 3).​
A pig stands close to his rescuers within the active Caldor Fire zone, before they relocate him to safety. Contributing photographer Nikki Ritcher was able to join alongside one seven-person animal rescue team amongst many that respond to calls from animal owners desperately trying to get animals out of the active fire zone and to a safe shelter. Often farm animals are not trailer-trained, nor are there evacuation routes set up on owners' property to get them safely into stock trailers. This circumstance creates an almost impossible feat for the volunteers to get these animals evacuated and volunteers have to spend hours trying to rescue them. Evacuation also adds unnecessary stress to the animals who are already fire-stressed and scared, all while putting the volunteers' lives at risk in an active fire zone. USA, 2021. Nikki Ritcher / We Animals Media.

Mass fish die-offs, sometimes referred to as fish kills, are caused by depleted oxygen and nutrients in a body of water. Industrial-scale animal farming is causing significant harm to native species and the ecosystems on which they depend. After Hurricane Florence hit North Carolina and caused mass flooding, toxins from industrial pig farms and hog lagoons, which hold thousands of tonnes of pig excreta, were assumed to have been the partial cause of this fish kill at a lake in Wilmington. USA, 2018. Jo-Anne McArthur / We Animals Media.​
An injured possum receives treatment at Southern Cross Wildlife Care for severe burns caused by the bushfires. Tucked away in the forests near Mona Vale, New South Wales, staff at Southern Cross Wildlife Care worked around the clock during the cataclysmic bushfires that raged through the country in 2019-2020. While working with the team at Animals Australia, we documented the centre's care of koalas, wallabies, possums, wombats, and echidnas. During the fires, the staff worked on location as well as at makeshift triage locations around the state. Australia, 2020. Jo-Anne McArthur / We Animals Media.
Cows grazing near Goose Lake in Vernon BC. Thick smoke from the White Rock Lake wildfire billows in the background. As of early Aug 2021, there are 280 active wildfires burning in British Columbia. 33 are wildfires of note, meaning fires which are visible or pose a threat to public safety. B.C. Wildfire Service has responded 1,427 wildfires since April 1, 2021. Canada, 2021. We Animals Media.
"Our world needs transformational change. It's time for the world to hold sectors accountable for their role in our environmental crisis while also calling for bold, creative, and innovative solutions." — earthday.org
With the power to ignite emotion and discussion, high-quality visuals are an important piece of the puzzle when it comes to talking about the relationship between animals, people, and the planet. These photographs are just a selection from our Environment and Climate Change gallery, which features over 1,000 compelling visuals captured by our team of international photojournalists. As always, the We Animals Media stock collection offers high-quality photos and video clips to support your work, free for non-commercial use.
This Earth Day, help tell these important stories. Visit our Earth Day gallery to view and download these images (and more) or search specific keywords to get the visuals you need.
More like this from We Animals Media: