Our Top 10 Images For World Wildlife Day
Wildlife is in crisis all over the world with many animal and plant species driven closer to extinction every day. March 3 is World Wildlife Day, a United Nations (UN) event dedicated to raising public awareness of endangered species and the power of conservation efforts to effect change.
"Over 8,400 species of wild fauna and flora are critically endangered, while close to 30,000 more are understood to be endangered or vulnerable."
— International Union for Conservation of Nature (IUCN) Red List of Threatened Species
UN World Wildlife Day 2022 will lead the conversation towards supporting the restoration of wildlife's habitats and ecosystems, which support all life on Earth.
High-quality visuals are key to talking about important issues like these and as the world's leading animal photojournalism agency, we're not short of powerful imagery to support your storytelling efforts. So if you're looking for ways to celebrate World Wildlife Day this year, look no further! We've curated a gallery of our top wildlife images to help you tell these important stories.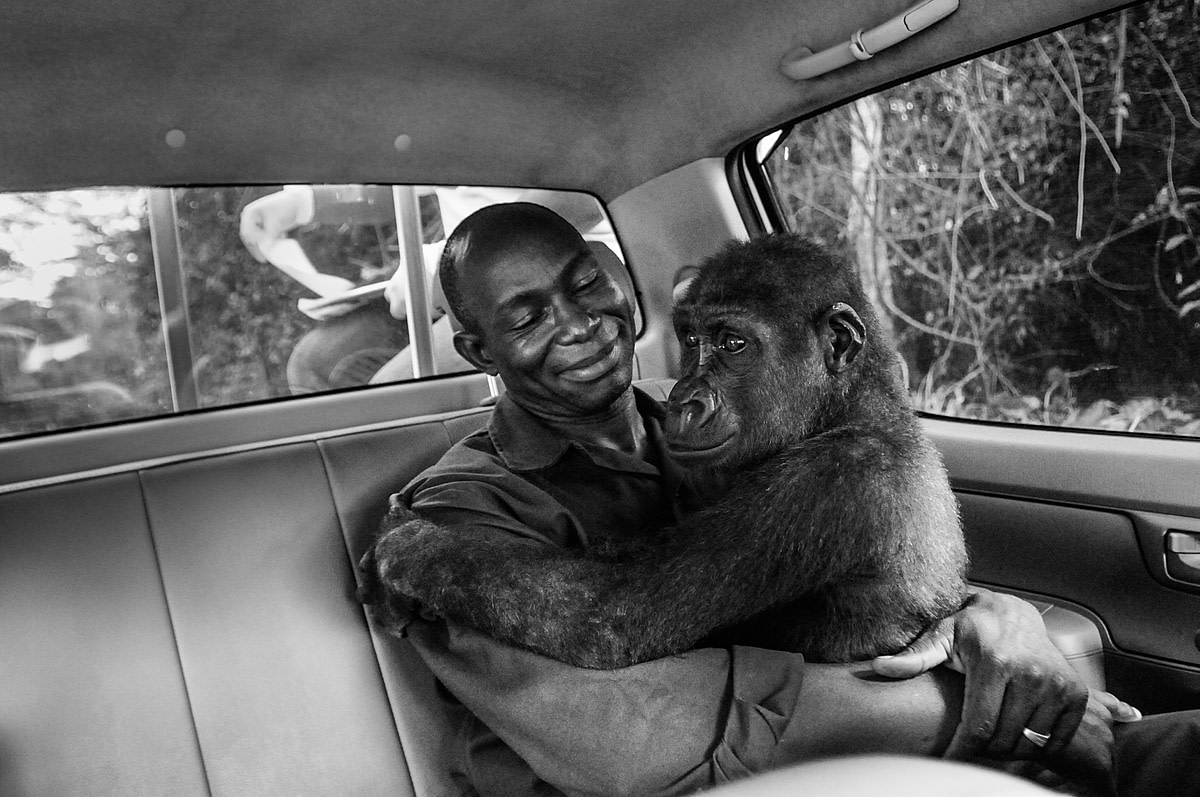 Pikin, a lowland gorilla, had been captured and was going to be sold for bushmeat but was rescued by Ape Action Africa. Pikin was being moved from her former enclosure within a safe forest sanctuary in Cameroon to a new and larger one, along with a group of gorilla companions. She was first sedated, but during the transfer to the new enclosure she awoke. Luckily, she was not only very drowsy, but she was also in the arms of her caretaker, Appolinaire Ndohoudou, and so she remained calm for the duration of the bumpy drive. Cameroon, 2009. Jo-Anne McArthur / We Animals Media. This photograph was the winner of the 2017 Wildlife Photographer of the Year People's Choice Award.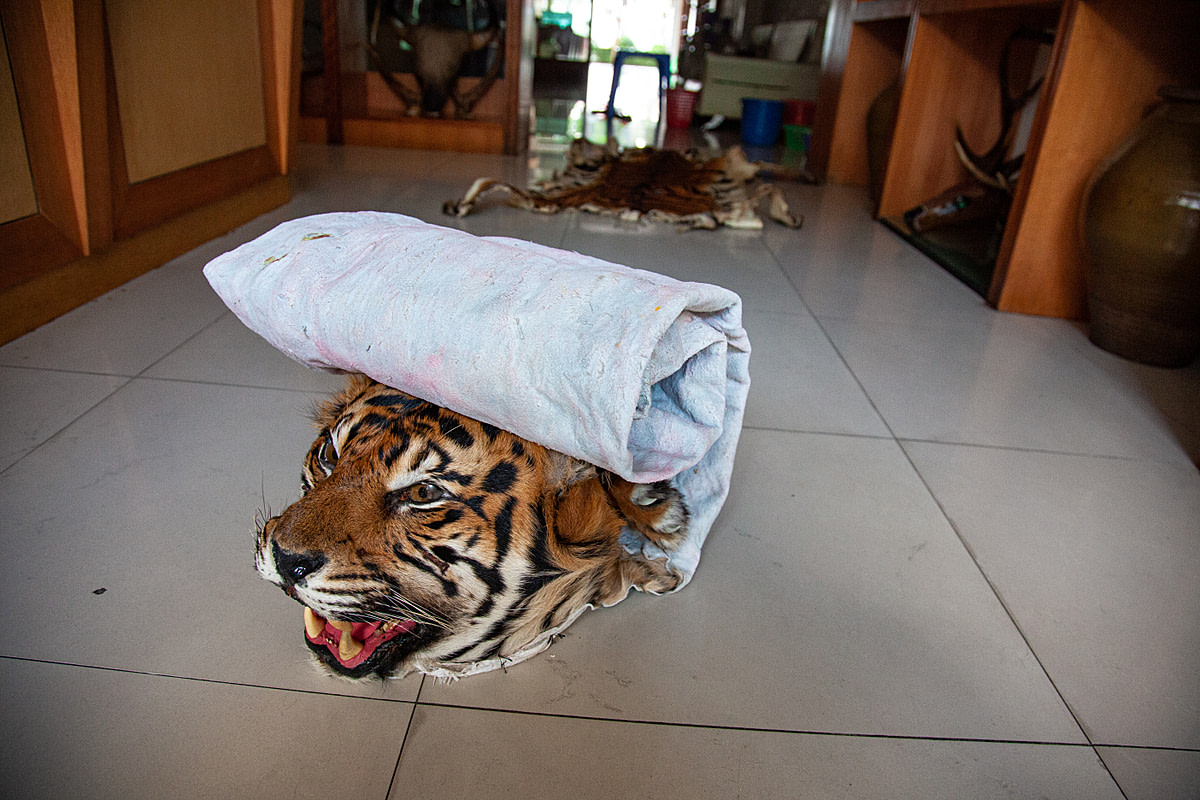 The processed skin of an Indochinese tiger is presented for sale. Wildlife trade continues unabated in this non-government controlled special region where endangered species are openly traded and consumed. Poaching and the black market trade in wildlife has become a multi-billion dollar business, with trafficking routes extending from remote national parks and protected areas, where animals are extracted, to major urban centres where they are sold and consumed. Myanmar, 2009. Adam Oswell / We Animals Media
Bam and her team of volunteers look on as her infant gibbons play in the jungle at her rehabilitation center, the only one of its kind in Malaysia. There the gibbons learn how to swing, climb, and feed in the wild. Malaysia is home to five species of gibbons, all of which are endangered. Like many primates, their biggest threat is a loss of habitat from deforestation, but they are also threatened by illegal wildlife traders capturing and selling them to people who want them as pets. To trap one baby gibbon, poachers often have to slaughter a family of around 10, because they will fight to the death to save their family. Malaysia, 2019. Justin Mott / Kindred Guardians Project / We Animals Media.​
A duck hunter displays his kill. Though duck hunting is now illegal in three Australian states, the wetlands in Victoria still erupt with gunfire on opening day of duck hunting season. Hunters enter the wetlands before daybreak. While anti-hunting activists are also in attendance, they are banned from entering the waters or interfering with the hunting. By late morning, activists are allowed to enter the wetlands to look for dead, injured, and dying ducks and offer veterinary care. Australia, 2017. Jo-Anne McArthur / We Animals Media.
John Mugo, 37, a member of the NPR (National Police Reservists) protects and patrols the grounds of Ol Pejeta Conservancy from poachers with Najin in the background. The rhinos have been poached almost to extinction for their horns to be used in traditional eastern medicines in China, Vietnam, South Korea, and Taiwan and in Yemen for dagger handles. Kenya, 2019. Justin Mott / Kindred Guardians Project / We Animals Media.​
A young rhesus macaque is chained before being eaten or used for traditional Chinese medicine by customers at the Kings Roman Casino, Thong Pheung, Bokeo Province, Laos. The surge of new Special Economic Zones in Asia is the new model for money laundering and wildlife trade. Casino towns boom in non-government controlled areas in border zones controlled by huge criminal syndicates that launder billions in proceeds from gambling, narcotics and wildlife with absolute impunity. Lao People's Democratic Republic, 2021. Adam Oswell / We Animals Media.
Monique Pool is always looking up—not in a figuratively optimistic way, she literally is constantly looking upwards. The government has no official sloth conservation program, so Pool officially founded her own foundation in 2005, Green Heritage Fund Suriname. Since the launch, Pool and her 7 full-time staff and dozens of volunteers have rescued and relocated over 1,000 sloths. When asked about the future of sloths in Suriname Pool explains, "I'm worried for them because of climate change, deforestation, and an increase in illegal gold mining. Suriname is the most forested country in the world and the most beautiful country and if we can conserve it, we have the opportunity to set an example for the rest of the world." Suriname, 2019. Justin Mott / Kindred Guardians Project / We Animals Media​
Mass fish die-offs, sometimes referred to as fish kills, are caused by depleted oxygen and nutrients in a body of water. Industrial-scale animal farming is causing significant harm to native species and the ecosystems on which they depend. After Hurricane Florence hit North Carolina and caused mass flooding, toxins from industrial pig farms and hog lagoons, which hold thousands of tonnes of pig excreta, were assumed to have been the partial cause of this fish kill at a lake in Wilmington. USA, 2018. Jo-Anne McArthur / We Animals Media
Hope in a burned plantation. An Eastern grey kangaroo and her joey who survived the forest fires in Mallacoota, Victoria, which had been severely affected by the bushfires. An estimated three billion animals were killed or displaced in fires that season. Australia, 2020. Jo-Anne McArthur / We Animals Media. This photograph was the winner of the 2020 Nature Photographer Of The Year competition (Man & Nature category).

These photographs are just a small selection from our wildlife gallery, which features over 1,200 engaging visuals captured by our team of international photojournalists. As always, the We Animals Media stock collection offers high-quality photos and video clips to support your work, free for non-commercial use.
This World Wildlife Day, help tell these important stories. Visit our Top 25 wildlife gallery to view and download these images (and more) or search specific keywords to get the visuals you need.
More like this from We Animals Media: