Interview with Wildlife Photographer Adam Oswell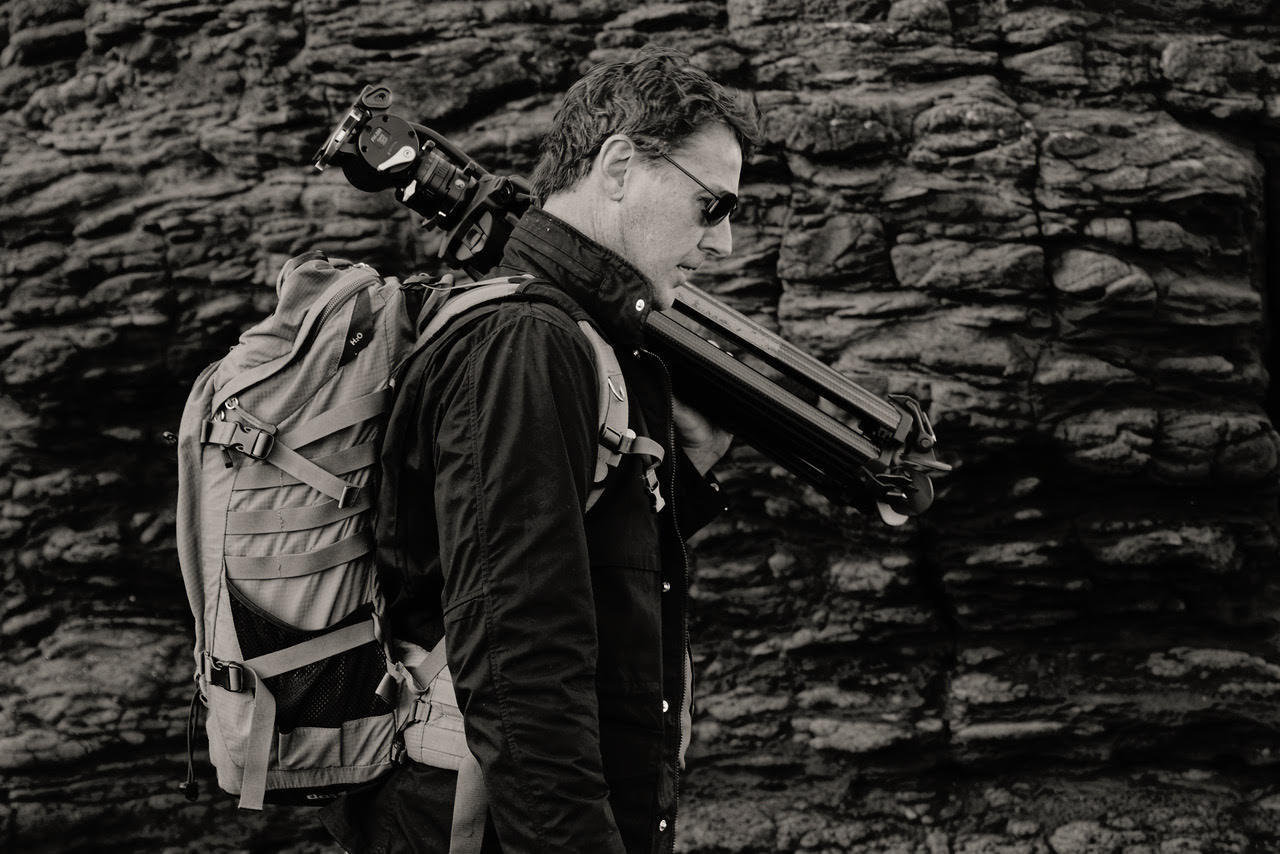 We Animals Media Contributor, Adam Oswell.
We Animals Media contributor Adam Oswell is an award-winning Australian photographer specialising in wildlife trade and protection issues. Based in Thailand, he has worked and travelled extensively in Asia for over 20 years.
His work has appeared in international media including TIME Magazine, The Guardian, Getty Images, Bloomberg, and National Geographic, and has been exhibited at the world's leading photography and photojournalism festivals and galleries. Adam is a contributing photographer to the newly released books Photographers Against Wildlife Crime and HIDDEN: Animals in the Anthropocene, and produced the book Black Market: Inside the Endangered Species Trade in Asia, the first publication of its kind to extensively document international wildlife trade.
We spoke with Adam to learn more about his work, including his recent Wildlife Photographer of the Year win and his upcoming assignment with We Animals Media.
We Animals Media (WAM): You recently won the Natural History Museum's 2021 Wildlife Photographer of the Year (WPY) Award in the Photojournalism category for your image "Elephant in the Room." Why are achievements like this important? What's the significance of this recognition?
Adam Oswell (AO): Gaining exposure through major awards like the WPY is important because the images reach millions of people globally and can give people an insight into spectacular and unseen aspects of nature and other critical issues affecting wildlife like no other forum can. That can generate enormous influence and motivate people to value nature and wildlife and start examining and questioning our relationship with the natural world, which can lead to great change.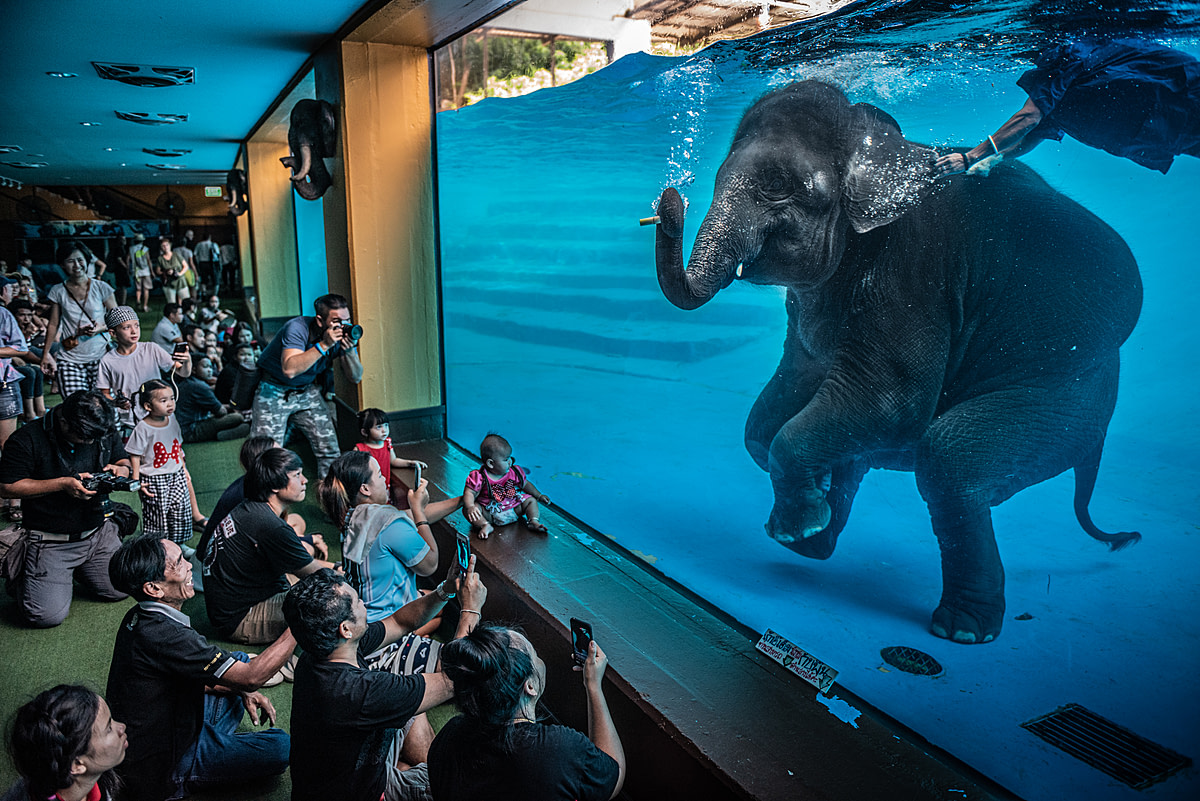 Tourists at Khao Kiew Zoo watch an Asian elephant forced to swim underwater for performances. Thailand, 2019. Adam Oswell / HIDDEN / We Animals Media
WAM: Which came first for you: animals or photography? Can you tell us a little about your path to where you are today?
AO: I've always been interested in animals and nature. I was fortunate to grow up hanging out in the Australian bush and experiencing all the incredible wildlife that was part of living in our family home. My passion for photography started in high school, learning the fundamental principles of recording light on film in art classes was a revelation, learning to convert those ideas into meaningful stories and images was a challenge. It was then I realized I wanted to live my life doing this and being as independent as I possibly could.
My first trip to Asia (Hong Kong and Japan) when I was 17 completely changed my world. Then a few years later traveling independently through south east Asia, India and the subcontinent opened a world I could never have imagined growing up in Sydney, Australia. The world was changing at a rate never before seen and I quickly realized the spectacular human cultures and natural history I was experiencing wasn't going to last. It was during this period in the 80's and 90's that I started to see drastic change. The massive development and the explosion of tourism was rapidly destroying much of the biodiversity in Asia. I was seeing wildlife being traded, exploited and exterminated in very large volumes. It shocked me and I decided then I would work on this for the long term.
Chinese food vendors and restaurant owners display live endangered Sunda pangolins for Chinese tourists at the local market. Wildlife parts are highly valued in many Asian cultures and are believed to bring health, power, good luck and virility. Myanmar, 2002. Adam Oswell / We Animals Media
WAM: What do you enjoy most about your work? What do you find most challenging?
I really enjoy the traveling involved, going to new places, experiencing beautiful wild places and meeting exceptional people working on really interesting and important issues. I've been into some forests that are basically the same as they were 10,000 years ago. Those places and experiences transcend time and reinforce my resolve to keep going, keep pushing despite the setbacks.
It is, however, sometimes overwhelming and depressing; I have to push myself to keep going and sometimes I wonder if it's making a difference because the human enterprise is so relentless and can be so destructive. I find it challenging dealing with people who are ignorant and indifferent to these issues or criticize my work without contributing anything themselves. Everyone has an opportunity and a responsibility to educate themselves and pay attention to what's happening. Sometimes I am threatening the interests of powerful people and self preservation is always a priority and a challenge.
The processed skin of an Indochinese tiger is presented for sale. Wildlife trade continues unabated in this non-government controlled special region where endangered species are openly traded and consumed. Myanmar, 2009. Adam Oswell / We Animals Media
WAM: What's happening in animal photojournalism in Asia? How has it evolved during your 20+ years working in this part of the world?
AO: Animal photojournalism is slowly becoming more mainstream in Asia. There's far more awareness now than there was 20-30 years ago and much more legislation in place to counter wildlife trade. Thailand, for example, introduced its first animal welfare law in 2014 and there is now a lot more awareness on conservation and animal welfare issues. It's evolving quite fast as the younger generation is becoming more aware and concerned for their future and social media has brought these issues into their daily lives. There's far more interest and demand now for stories on animals and wildlife.
Instructors from the South African Field Ranger College conduct weapons training for Karen Forestry Department (KFD) wildlife protection units as part of a program to enable effective tactical patrol and enforcement operations. Myanmar, 2013. Adam Oswell / We Animals Media
WAM: How much creativity can you as a photographer bring to a scene? You're reporting as a journalist, but how much are you also trying to include your perspective as an eye-witness, as well as your own creative expression?
AO: I try to shoot things the way they are in the most compelling way I can, but that also means trying to be as creative as possible because the subject matter is often difficult to witness and many people don't want to engage with or acknowledge what's happening. I have to get their attention and their interest. Images are going to be interpreted differently by different people so I always try to portray what is happening in the simplest, most straightforward way possible. Being aware of colour or atmosphere to give the scene or subject more impact is important. Images are metaphors for reality and I always try to make them as interesting and engaging as possible. Many of the scenes and issues I cover are visceral so I try to convey that feeling using what's available at the time. That can be light, colour, texture, movement, scale or emotion.
WAM: Is there any particular image you've created that you think represents your work and what you'd like to communicate to the world particularly well? Tell us why.

AO: I think the elephant image that won the WPY award this year is powerful. This image caused a massive reaction and discussion on many levels. I see this image as a metaphor for our relationship with nature and animals, how we manufacture and exploit nature and animals to suit ourselves, and for the diminishing populations of wild elephants and so many other species now in decline. There are now more domestic elephants in Thailand than wild individuals and wild populations are being marginalized even more by encroachment on habitat, which is creating a lot of conflict.
Overall, I feel the image of the snow leopard in Mongolia is my favourite, mostly for personal reasons because I know how incredibly difficult it was just to get that image. But also because the snow leopard is a beautiful, iconic species and its current situation represents all that we are now facing with climate change, habitat loss, illegal trade and the encroachment and destruction of its habitat. Mongolia is warming three times faster than the rest of the planet and this is disastrous for an animal adapted for cold winters.
A western tourist clings to the tusk of a large bull elephant as he begs for money at the Surin Elephant Festival, Surin, Thailand. The annual festival was originally a trading event where mahouts would gather to trade elephants but has now developed into Thailand's largest tourist event and attracts hundreds of thousands of local and international visitors. Thailand, 2011. Adam Oswell / We Animals Media
WAM: Who inspires your work? Do you have any top photography influences?

AO: One of the first really influential and inspirational photographers for me was Eugene Smith. I remember when I was teenager and I first saw those black and white images in Life Magazine of Minamata and the human mutations that were a result of the Chisso corporation releasing mercury into the local food chain. They were so incredibly powerful and emotional. He communicated that story so effectively. It was inspiring but also educated me to the world of corporate impunity and the disgraceful greed and indifference attached to industrial scale development.
Mike 'Nick' Nichols is also a huge inspiration. His work gives me enormous motivation and is to me a benchmark for conservation and wildlife photography. He has done so much with his work over the space of decades. And Sebastian Salgado, I met him at his exhibition in Bangkok in 2017 which included his series on Workers, Exodus and Genesis. He was approachable and aware and sensitive to what's at stake and what we are now facing as a civilization if we don't change. His work is very special and he is a great human being.
A young Asian elephant has his prosthetic leg fitted at the Friends of the Asian Elephant hospital in Lampang. This young male lost his front foot when he stepped on a land mine at the Thai-Myanmar border. Thailand, 2020. Adam Oswell / We Animals Media
WAM: When preparing for a field assignment, what's your go-to camera bag kit?
AO: Preparing for field work and assignments really depends on what I am going to shoot and where. I generally go with a Nikon D850, 300mm F4 PF, 24-70 F2.8, 400mm F3.5 AIS and a Leica M262 rangefinder with a 50mm Summicron V3 and a 28mm Summicron ASPH. On top of that I always take a RRS or Flowtech tripod and fluid head for video mostly. Sometimes I just go with the Leica because I want to be fast, light and discreet but still have good image quality. It really does depend on what the mission is.
If I'm going into the forest or into remote areas it gets more complicated because I have to think about power, batteries, lights and back ups, which means computers and some kind of solar power, which then means extra weight and often the need for more people to carry and manage it. Then there's security issues in some countries where I have to be really minimal because I just can't watch and protect all that equipment from theft or damage all the time.
A female Indochinese tiger waits in a display cage with baby pigs at the Sriracha Tiger Zoo. COVID 19 caused the collapse of tourism in Thailand in 2020 and it is yet to recover. Thailand, 2009. Adam Oswell / We Animals Media
WAM: If you could issue an invitation to other photographers to take up animal photojournalism, what would you say? If you could issue an invitation to the media to include the work of animal photojournalists, what would you say?
AO: For any photographer who cares about what is happening to our world right now, I would encourage you to consider animal and conservation photojournalism. There are so many critical stories that need to be told right now and those stories can create incredible change. For photographers, it's a deeply rewarding and fascinating calling to use your skills to speak for the ones who can't and build meaningful momentum for change and compassion.
It's so important these stories are given the exposure they need and deserve. There's never been more interest in animal and conservation issues and there are great opportunities right now to tell these stories and expose these critical issues that are going to determine our future. All media have a responsibility and an opportunity to embrace the work of good animal photojournalists. We are all responsible and the choice is ours.
Mahouts prepare their elephants for the day's performance and street begging at the Surin Elephant Festival. The annual festival was originally a trading event where mahouts would gather to trade elephants but has now developed into Thailand's largest tourist event and attracts hundreds of thousands of local and international visitors. Thailand, 2011. Adam Oswell / We Animals Media
WAM: You'll be shooting a new story for WAM next month about elephants in Thailand during the pandemic. Can you tell us about this upcoming work?
AO: The situation in Thailand with elephants is unique because elephants are traditionally a big part of Thai culture and the tourism industry. The Thai economy has been decimated because of the collapse of tourism globally. They are very dependent on tourism revenue and elephants have played a big part of that for decades. With COVID, thousands of elephants typically forced to work in the tourism industry are now not working, and there have been massive challenges for elephant owners to care, feed and maintain their elephants.
I've been working on this issue for over 10 years so I have a good body of material now which I hope will create more awareness. The project is a powerful metaphor for the ever diminishing interface between humans and the wild which I hope will help us consider how we inhabit the biosphere, our relationship to the natural systems that sustain us, and how we envision a future residence on earth that includes sustainable human and wild populations.
Adam's images of the wildlife trade and protection issues in Asia are now available in our stock collection. We'll be sharing more of his work in the coming months.

More like this from We Animals Media: