Veganuary Is Over, Now What? Our Top Images To Keep the Dialogue Going About Veganism
Veganuary has come and gone. This international campaign that encourages individuals to "Try Vegan" for the month of January has tremendous impact – with over 600,000 individuals signing up this year alone.
With the support of celebrities, professional athletes, high-calibre chefs, empowering marketing materials and a plethora of resources, Veganuary has allowed the concept of veganism to enter the mainstream. Veganuary is doing something right!
So how do we sustain this energy? As a photojournalism agency, we firmly believe that high-quality, high-impact visuals are the key to talking about veganism to new audiences.
We've compiled our top image picks for you to use to continue the dialogue about veganism with your audience. These visuals are ideal for campaigns, email newsletters, blog posts, social media, however you communicate to your audience. We'll tell you how to best use them, and of course, where you can download these images for free (hint: it's the We Animals Media stock site).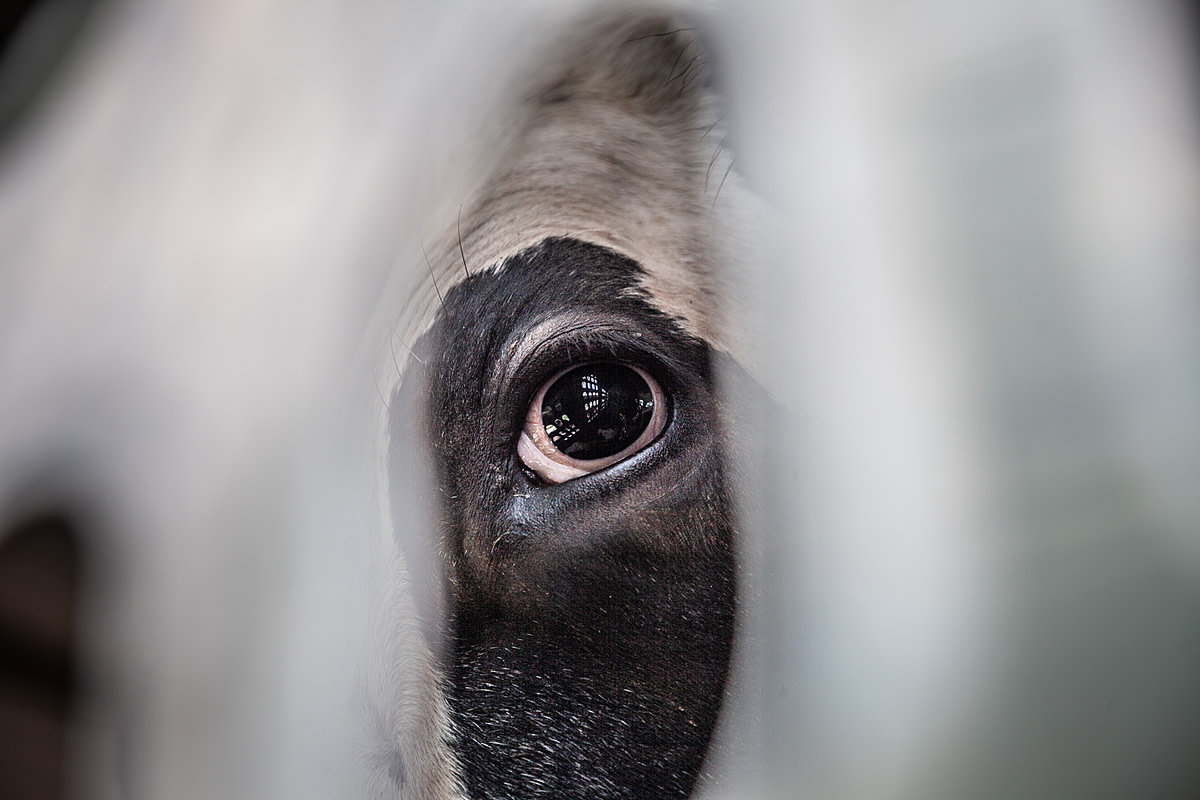 The interior of the transport truck is reflected in this cow's eye. Canada, 2018. Louise Jorgensen / HIDDEN / We Animals Media
For any campaign, blog post, social media carousel, you need a visual to captivate your audience. Think back on campaigns that have impacted you – that have moved you to question your behavior, moved you to action, or to donate. Without fail the strongest campaigns use gripping images to motivate their audiences and convey their main point.The picture you choose will depend primarily on your audience, how you want to motivate them and what you want to express to them.
Farmed animals are hidden from our view in factory farms, slaughterhouses and transport trucks. For this reason, eye contact is profoundly impactful. The images below allow the viewer to meet the individual behind the lens – perhaps for the first time – and connect in a way they may never have before.
Los Angeles Animal Save vigil at the Farmer John slaughterhouse. Dozens of trucks filled with pigs arrived and activists gave water to the thirsty pigs. USA, 2019. Jo-Anne McArthur / We Animals Media​
Tip: you can search the term "eye contact" on the We Animals Media stock site.
Why should people try veganism? Here is an excellent opportunity to talk about factory farming or the consequences of animal agriculture on our climate stability. What's the best way to talk about factory farming to a new audience? A tip from Jo-Anne McArthur, We Animals Media founder: show scope, but also show the individuals.
It may be obvious to you why animal by-products (milk, cheese, eggs) should be avoided, but assume your audience does not know why. Find a visual that best encapsulates those industries.
Don't Forget The Tastebuds!
As we know, the world of plant-based food is bursting with flavour and innovation. Why not show your audience what the #FutureofFood looks like?
It's All About The Animals
At its core, veganism is about compassion. Animals used for food are rarely in the public consciousness. This needs to change. Here is a great opportunity to showcase how playful and intelligent pigs are, the fearful eye of a cow on its way to slaughter, or the injustice of chickens living in stifling conditions.
Use The We Animals Media Stock Site
Good luck with your campaign! As always, our We Animals Media stock site offers high-quality visuals to support your animal advocacy efforts, at no cost for non-commercial use.
More like this from We Animals Media: