Assignment: COVID-19 and Thailand's Elephants
Papas Nukaew (NIjaan), the camp manager at Elephant Freedom Village (EFV), washes his elephants with their first foreign visitors in over a year. Thailand, 2021. Adam Oswell / We Animals Media
The COVID-19 pandemic has devastated domestic elephant populations and their habitats across Asia.
"The sudden collapse of tourism has forced thousands of elephants and their keepers (known as mahouts) into a struggle for survival with many elephants and mahouts becoming redundant and compelled to return to their home villages to rebuild their future." ― Adam Oswell, wildlife photographer
In November 2021, We Animals Media contributor Adam Oswell spent several days in these communities documenting this story after winning Wildlife Photographer of the Year for his portrayal of a captive elephant.
As many mahouts struggled to maintain and feed their elephants, this enforced break from work provided a period of reflection as well as an opportunity to free themselves from their dependence on elephant camps. For the elephants, it meant respite from the abuse often endured when working in Thailand's tourist trade.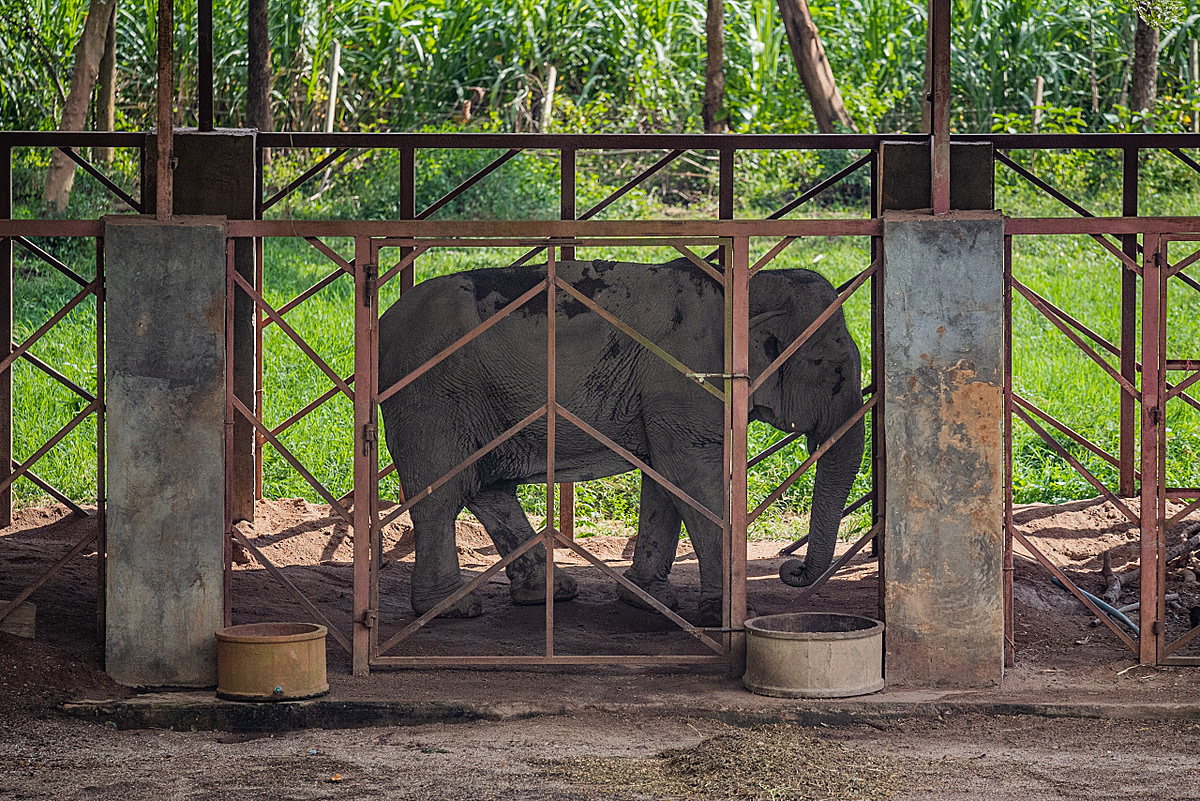 An elephant is chained in a small corral without enough food or proper care. Thailand, 2021. Adam Oswell / We Animals Media
Thailand is heavily dependent upon tourism, which made up over 20% of the country's GDP in 2019. In addition to being an important part of Thailand's cultural heritage, elephants have been a major tourist attraction for decades. This has had a profound effect on wild elephant populations throughout Asia.
The modern elephant tourism model introduced huge demand for both live elephants and elephant products and derivatives such as skin and ivory.
Traditionally, the most common method of sourcing live elephants to boost domestic populations in Thailand (and most of Asia) involves capturing young elephant calves from their wild herds. Mothers are often killed while trying to defend their young. The captured calves are trained using violent processes and are then laundered into domestic populations. Once working, their compliance is maintained by jabs and cuts to the head from a bull-hook, leaving scars and psychological damage for the rest of their lives.
A mahout controls his young Asian elephant calf with a bull hook at the Surin Elephant Festival, Surin. Thailand, 2011. Adam Oswell / We Animals Media
One bright spot for elephants has emerged from the COVID crisis — A new model with an aim to promote peaceful human and elephant coexistence.
"The rise of new projects using community forests to feed and provide habitat for elephants is a fantastic new sustainable model that has emerged out of the pandemic." ― Adam Oswell

These visuals capture the work of the organizations and individuals providing long term care to the elephants impacted by Thailand's tourism industry.
Thailand, 2021. Adam Oswell / We Animals Media
In recent years, international pressure to end elephant rides and animal cruelty in tourism has gained traction, but the onset of the pandemic has made this a sudden reality as thousands of elephants were forced back to their villages. The prolonged stays have led to a revival of close bonds and many keepers have sought ways to keep their elephants at home with their families. Many now feel reluctant to go back to the elephant camps once the ravages of the pandemic subside and mass tourism resumes.
The first international tourists from the UK to visit since the re-opening of Thailand in November 2021 wash elephants in the river that runs through the Elephant Freedom Village community forest. Thailand, 2021. Adam Oswell / We Animals Media
But what would the future hold for these elephants without tourism? Once retired, will they go to sanctuaries where people might still pay for a ride or watch them perform? Can mahouts alone be expected to keep a hungry elephant fed and healthy for the rest of their life? Are we prepared for the consequences of removing wild animals from their environment for the sake of entertainment?
Asia's remaining wild elephant population is barely 50,000 individuals and threatened by habitat destruction, poaching and expanding agriculture. The end of elephant tourism might save future populations from being taken from the wild, but a new cruelty-free relationship between human and elephant still lies in the hands of the mahouts, their families and the world's tourists.
More like this from We Animals Media: