Raising Animal Issues to EU Parliament
On March 28, we exhibited our animal photojournalism to members of the European Parliament as part of a conference, Overhauling EU Farm Animal Welfare Laws, organized by Compassion in World Farming. Our Founder and President, Jo-Anne McArthur also presented to EU members about industrial farming.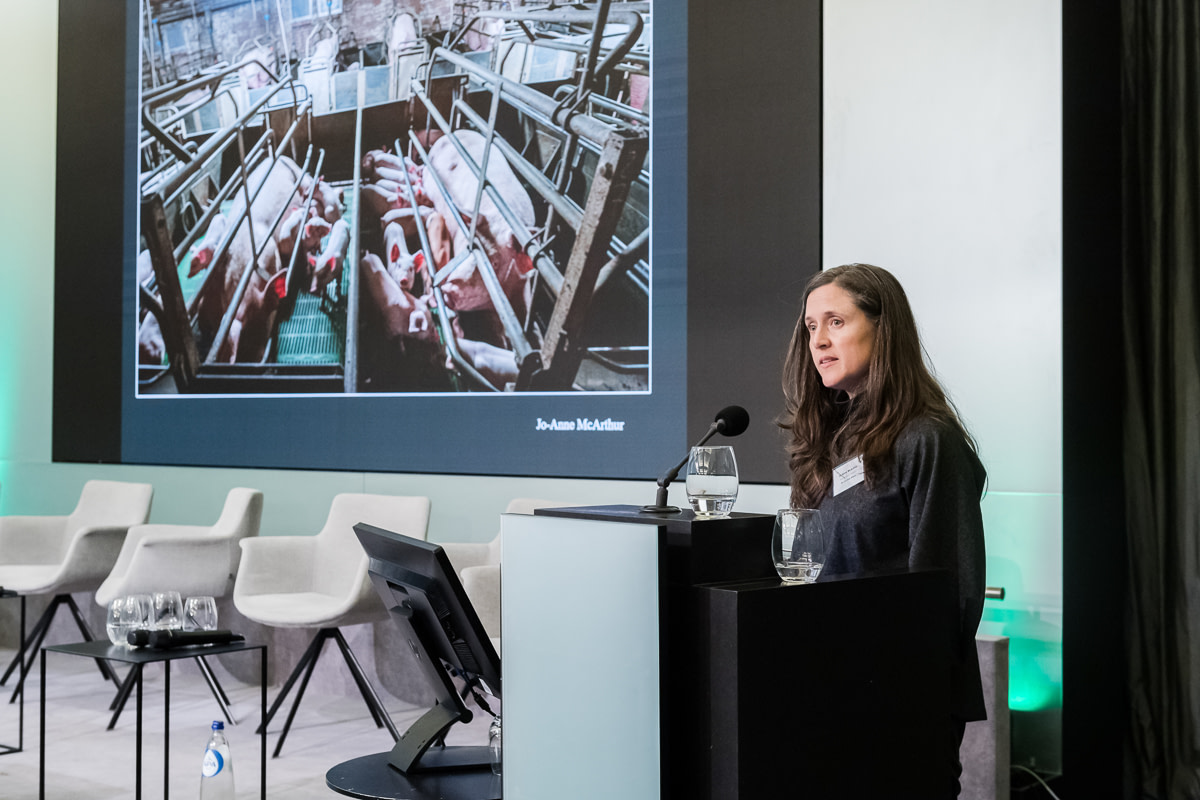 Credit: Geert Vanden Wijngaert
Credit: Geert Vanden Wijngaert
The EU kills 10 billion farmed animals every year and this system creates an enormous amount of suffering. The high-level conference, held at Residence Palace in Brussels and streamed online, provided a space for discussion on the need to revise EU animal welfare laws to align with the latest science on animal ethology and best welfare practices in animal agriculture.
The exhibition of WAM's work consisted of 56 photographs from across Europe from eight of our animal photojournalists. The work was printed large and on full display for all guests to see, most of whom had never seen an exhibition like this.
Credit: Geert Vanden Wijngaert
Credit: Geert Vanden Wijngaert
Credit: Geert Vanden Wijngaert
In her presentation "Seeing Animals Through the Lens", Jo-Anne shared insights from her 20-years+ experience on the front lines documenting the lives of farmed animals around the globe.
"Given what farmed animals have undergone, and continue to undergo, every single moment of every day, what I hope is that we're up to the task of doing the right thing by them and by our conscience, and that is to look at them, to consider them and to not turn away." – Jo-Anne McArthur
Credit: Geert Vanden Wijngaert
Credit: Geert Vanden Wijngaert
Credit: Geert Vanden Wijngaert
Conference attendees and panellists included representatives of the governments of Sweden, Austria and Belgium, as well as from the European Food Safety Agency (EFSA) and key players from various NGOs working on behalf of farmed animals in Europe, including Eurogroup for Animals, FOUR PAWS, Humane Society and World Animal Protection.
"Speaking to these MPs and MEPs was an empowering experience. Ok, and a little daunting. I wanted to make a strong impact because curbing farmed animal suffering is urgent. We need elected officials on board with long-overdue welfare improvements, and as one audience member said, an eventual end to the abomination that is industrial farming." – Jo-Anne McArthur
Watch the conference recording on YouTube
We'd like to extend our thanks to our partner Compassion in World Farming for their invitation to participate in this conference and all their work organizing such an important conference.
Donate today and help us continue to conduct this global fieldwork on behalf of animals.
More like this from We Animals Media: